Thanks to its central location, you can plan many fantastic weekend trips from Phoenix. Phoenix is the best place to start your weekend road trips across the Southwest, or a weekend holiday to nearby towns, national parks, and outdoor adventures that await you.
As the weather turns hot at the end of spring, you can head north, or cool off in one of many amazing Arizona lakes. 
In fall and winter, you can follow the brilliant national parks and monuments to witness the magical fall colours or plan a road trip to the best Christmas towns near Phoenix.
No matter the time of the year, there is no shortage of choices for planning weekend getaways from Phoenix, where you have a plethora of activities and things to do,
from exploring abandoned mining towns down south to enjoying high-elevation weather in Northern Arizona.
These long weekend getaways from Phoenix offer the perfect way to escape the summer heat, visit historical sites, go on an outdoor adventure, and enjoy world-class cuisine.
I have done multiple trips to these towns, cities, and national parks from Phoenix, and I have had the best time on each trip, making me go back for more. 
Now I share the best weekend getaways from Phoenix, Arizona for you to have fantastic experiences on the road.
BEST WEEKEND TRIPS FROM PHOENIX – PARKS
GRAND CANYON NATIONAL PARK
Your trip to Arizona is incomplete without exploring the magnificent Grand Canyon National Park.
Although you can visit this park from any part of the state, it is one of the best weekend trips from Phoenix you can plan thanks to many fantastic day trips, hiking tours, and multiple-day private tours to the Grand Canyon you can choose.
Thanks to the connectivity and convenience, you can also visit the national park from Phoenix comfortably making it one of the popular Phoenix weekend getaways.
In just about a 3.5-hour drive, you can check off a major bucket list item.
The park is categorized into north and south rims. Most people visit the South Rim because of its proximity to larger cities, including Phoenix.
The South Rim also has more options for stays and restaurants, and a shuttle operates from this rim regularly.
The North Rim, located about 4.5 hour's drive from the South Rim, is more remote and at a higher elevation and remains cooler.
You can only visit North Rim from May 15th through October 15th, and the roads are closed to all vehicles from December 1st to May 15th.
Soak in the spectacular views from the many beautiful viewpoints in the Grand Canyon, admire the fantastic Grand Canyon sunset views, or, if you are an early bird, start your day by witnessing a beautiful sunrise in the Grand Canyon.
Stroll along a paved path at the rim or hike part of the way or all the way down into the canyon, one of the popular routes loved by hikers and mountain bikers.
You can raft on the Colorado River if hiking is not your thing, or drive along the scenic routes to witness some of the most splendid views of the rugged Canyons and the major landmarks.
Although spring and fall are the most popular, and hence most crowded and expensive seasons to visit the park, you can skip the crowds and have a fantastic, pocket-friendly trip by planning a trip to the Grand Canyon in winter!
STAYS INSIDE GRAND CANYON NATIONAL PARK
Note that it is nearly impossible to get your booking to stay in South Rim during the busy summer unless you book months in advance. 
There are six places to stay at Canyon Village. All of them are elegant, offering stunning views and excellent amenities for comfortable stays.
El Tovar Hotel – It is one of the best historic National Park lodges in the US, and come here during winter to enjoy your stay at this elegant place
Bright Angel Lodge & Cabins – One of the best cabins known for its rustic vibes.
Kachina Lodge – A pretty modern-day hotel surrounded by fantastic views
Thunderbird Lodge – Stay here if you want to be close to the centre of Grand Canyon Village.
Yavapai Lodge – Also located in the heart of Grand Canyon Village.
Maswik Lodge – Surrounded by wooden forests, it is a unique stay close to shops and restaurants.
STAYING IN NEARBY CITIES
If, for some reason, you prefer staying in the cities nearby, the closest town is Tusayan, Arizona. 
This little town is very close to the South Entrance of Grand Canyon National Park. But the downside is that there are limited stay and food options.
If you prefer bigger cities, Flagstaff is the largest town near Grand Canyon. 
There are many incredible things to do in Flagstaff, which deserves a day or two to be explored and is packed with more varieties of hotels.
HOTELS IN TUSAYAN
HOTELS IN FLAGSTAFF
SAGUARO NATIONAL PARK
One of the popular weekend trips from Phoenix for outdoor lovers and adventure seekers is Saguaro National Park. 
One of the beautiful Arizona National Parks, this park is located 2-hours away from Phoenix. It is also a popular weekend getaway from Tucson, much closer.
Saguaro National Park is home to vast forests of saguaro cacti, including America's tallest and most iconic cactus species.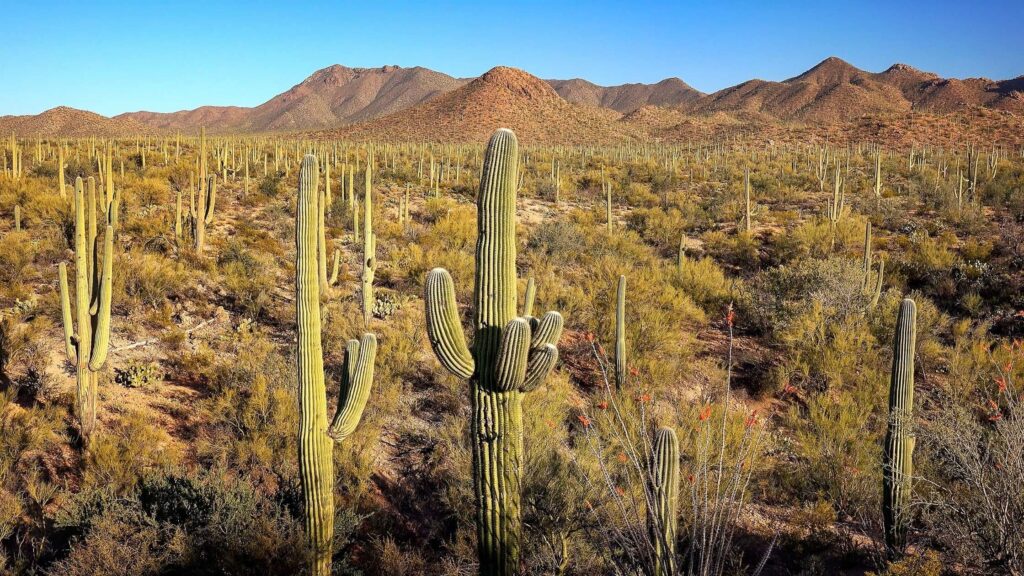 These large, majestic branching cacti reach heights of more than 40 feet, living over 250 years and dominating the landscapes creating stunning and rugged panoramas.
The majestic saguaro recognized worldwide as a symbol of the desert and an iconic image of the American Southwest, only appears naturally in the Sonoran Desert—which stretches across the southwestern United States on either side of Tucson.
Founded in 1933 by President Herbert Hoover, the Tucson and Rincon mountain ranges run through the park. 
The sweeping valleys dotted with forests of spiny saguaro towering up to 15 meters in height make for a distinctive sight with their prickly pears and blooming buds, and sunset is one of the most beautiful and distinct as these vegetations form alluring silhouettes.
RECOMMENDED FOR YOU – 8 BEST CAVES IN SEDONA YOU SHOULD EXPLORE
Saguaro National Park is divided into two segments, one on either side of Tucson, named the Rincon Mountain District east of Tucson and the Tucson Mountain Unit west of Tucson, covering over 54000 acres.
On the west side, in the Tucson Mountain District, which is smaller and more accessible, you'll find the densest stands of saguaro and sweeping views from the Valley View Overlook Trail. 
Many short hiking trails are ideal for beginners to explore the national park, including the unpaved Bajada Loop Drive driveway.
The Rincon Mountain District, on the east side, is more remote and includes a large mountainous region with summits over 8,000 feet.
Rincon Mountain also features the park's famous Cactus Forest Loop drive and offers stunning sunset and sunrise views.
There are many trails in the park of different difficulty levels for hiking and biking, which will take you across its dazzling and dramatic landscapes.
Hike the Hope Camp and Ridgeview Trails in spring for colourful wildflower displays and beautiful views.
Other Saguaro National Park attractions include Native American rock art and a 19th-century homestead. 
Check out the visitor centre for plant and animal exhibits. 
The national park is home to roadrunners, coyotes, Gila monsters, and many types of snakes, which you should watch out for while hiking.
ANTELOPE CANYON
Just under a five-hour drive from the capital city is the Antelope Canyon, the most visited and most photographed slot canyon in the American Southwest
It is one of the best weekend trips from Phoenix and my favourite for many reasons.
By far the most famous of all the slot canyons in Arizona, and one of the iconic landmarks in the world is Antelope Canyon, located in the Navajo Nation east of Page. 
It is so large that it is split into two distinct canyons: Upper Antelope and Lower Antelope.
Upper Antelope is the most famous and visited, while Lower Antelope is slightly more challenging to see and receives fewer tourists.
You can only access Antelope Canyons on a guided tour, which remains full throughout the year, thanks to its immense popularity. It is best to book the tours in months if you want to explore during peak seasons.
While both canyons are relatively short and offer a slightly different experience, both are incredible slot canyons comprising unique and impressive formations on the tall Navajo sandstone walls.
Recommended –5 Best Sedona Breweries You Should Visit To Unwind After Hiking
These striking wonders are millions of years old, formed due to the consistent work of flash floods, carving their famous rugged edges, creating deep and narrow winding fissures through the soft, red sandstone rock.
Upper Antelope Canyon, also known as the place where water runs through rocks, is the most crowded of the slot canyons near Page. 
Upper Antelope Canyon, spanning 200 meters long, has the largest caverns, with the entire canyon at ground level and no climbing, giving it easy access and attracting millions of visitors yearly. 
It is narrow and has more twists and turns than Lower Antelope Canyon. 
Upper Antelope Canyons is also easily accessible from Horseshoe Bend and the Glen Canyon Dam. 
One of the biggest draws of the Upper Antelope Canyon is its higher location at over 4000 feet; the directions and effects of sunlight filtering through the narrow and deep walls create fascinating illuminations of reds and oranges, changing position throughout the year, and creating fabulous views.
LOWER ANTELOPE
If you only have time to visit one of Page's famous slot canyons, it should be Lower Antelope Canyon. 
Lower Antelope Canyon is known for its spectacular spiral rock arches amidst narrow passages and shallow water on the ground.
Since the lower canyon is v-shaped, the light shines from above onto the canyon floor instead of through specific openings like the a-shaped upper canyon bringing more light into the canyon and offering splendid photo-capturing options.
Although it is only a quarter-mile long and twice as long as the Upper Antelope, it is home to some of the most iconic undulating formations in the rock walls, along with fantastic lighting and colouring, making it one of the top landmarks in Arizona and a bucket list destination for hikers, outdoor lovers and photographers.
On your guided tour, you will pass through a series of fantastic passageways where you can see the floors and the walls illuminated by sunlight pouring in, creating beautiful views.
You'll have to scale some ladders to access Lower Canyon, but it is worth the extra effort.
As this is one of the most popular canyons, tours for Lower Antelope Canyon can fill up fast, and booking your trip in advance is best.
MONUMENT VALLEY NAVAJO TRIBAL PARK
When you think of America's Wild West, no landscape ever comes to perfectly symbolising it than the Monument Valley Navajo Tribal Park, which is one of the most famous filming locations in the US.
Located within the Navajo Nation Reservation, straddling the Arizona-Utah state borders, its dramatic desert landscapes are instantly recognisable. 
This iconic natural landmark will take about five hours to reach by car from Phoenix, but it's well worth the journey. 
Thanks to its cinematic fame, it is one of the best weekend trips from Phoenix for outdoor lovers and history enthusiasts.
This fantastic landscape, known for dozens of spectacular free-standing sandstone buttes and monoliths towering above the sweeping sagebrush panoramas, is also home to ancient cliff dwellings.
Known to the Navajo as the 'Valley Between the Rocks,' it is one of the best places in Arizona for watching stunning sunsets and spectacular sunrises, and no wonder it draws thousands of photographers.
Like Canyon de Chelly, Monument Valley is on Navajo tribal land and houses many families whose ancestors have lived here for centuries.
You'll need to hire a jeep or high-clearance four-wheel-drive vehicle and pay an access fee to drive through the tribal park on a 17-mile dirt loop to experience everything in the park, including taking in the sights of the grandeur of North Window, Three Sisters, Yei bi Chai and the 500-foot-high Totem Pole.
You can take guided tours with a Navajo or Hopi person to Mystery Valley and Hunts Mesa, which can be booked at the visitor centre, to learn about the Puebloan history and culture. 
For hikers, the 3.2-mile Wildcat trail around the West Mitten butte is one of the best to explore without a guide. There is no camping within the park itself.
CANYON DE CHELLY NATIONAL MONUMENT
If you drive north of Interstate 40 towards Canyon de Chelly and continue passing through the lonely lands up South Rim Drive, you will arrive at Canyon de Chelly National Monument, one of the spectacular Arizona National Monuments that should be on your bucket list.
Located in northeast Arizona and part of the Navajo Nation, Canyon de Chelly National Monument encompasses magnificent red sandstone canyons created by Chinle Creek and its tributaries and ancient cliff dwellings high up in the walls along the ledges of the cliffs.
Canyon de Chelly National Monument in northern Arizona near the New Mexico border was established in the 1930s to conserve vulnerable archaeological sites and artefacts.
Although administered by the National Park Service (NPS), it is located entirely within the Navajo tribal homeland. 
Carved into the sandstone bedrock of north-eastern Arizona, near Chinle, the three spectacular canyons, De Chelly, Del Muerto, and Monument, lie at the centre of the Navajo Nation and the heart of many native legends.
There are over 800 ancient archaeological sites between Monument Canyon, Canyon de Chelly, and Canyon del Muerto. 
These canyons have been occupied by Indigenous peoples for 5,000 years uninterrupted, more continuously than anywhere in North America; 
Before them, the sites were home to the Ancestral Puebloans, Anasazi, Hopi and Navajo around 2,500 BCE, as indicated by the remains of prehistoric petroglyphs and age-old edifices.
Forty families still live within the park's boundaries even today. 
Since the Navajo still call Canyon De Chelly their home and a sacred site, you can only explore the monument on a guided Navajo tour with a native or National Park Service ranger.
Two panoramic drives run along the north and south rims of the canyon and have many overlooks.
You can opt for self-guided driving tours and stop at lookouts to cover many of the site's attractions, including Mummy Cave, carved into the sheer cliff, and Antelope House, standing at the base of the canyon walls. 
Don't miss the fabulous, towering tall spire of Spider Rock, an iconic sandstone spire that towers 230m above the canyon floor and, in Navajo legend, is the home of Spider Woman.
To see more, you'll need to hire a native guide to escort you on either foot, 4×4 or horseback.
Half-day tours traverse the rough river bottom and are best to experience ancient ruins, caves, and petroglyphs up close. 
If you don't have time for a tour and are up for a relatively challenging hike, do the only self-guided walk, the 3-mile White House Trail, going 600 feet down into the canyon to arrive at the spectacular White House ruins.
The trail begins six miles east of the visitor centre along South Rim Drive. 
In the 1800s, this canyon was the site of many massacres of Native Americans by the Spanish and US Armies.
Head to the Cottonwood campsite for tent and RV camping. You need to book guided tours in advance at the visitor centre.
The park is open year-round, but access may be limited in the winter due to snow.
LAKE MEAD NATIONAL RECREATION AREA
Lake Mead National Recreation Area along the Colorado River is the first and largest national recreation area in the United States. 
Lake Mead is located only 4.5 hours away and is among the best weekend trips from Phoenix.
The recreation area runs along the large lake formed in 1935 by the construction of the Hoover Dam across Black Canyon and the smaller Lake Mohave, behind Davis Dam. 
Spanning 1.5 million acres of mountains, red rocks, valleys and canyons, Lake Mead National Recreation Area includes two impressive lakes – Lake Mead and Lake Mohave and nine wilderness areas. 
There are over 750 miles of vibrant turquoise shoreline, perfect for sunbathing, swimming, enjoying boat activities, or relaxing with your favourite book and drinks on the many sandy beaches.
Among the popular activities in Lake Mead is renting a houseboat, scuba diving, fishing and water adventure like kayaking, swimming, canoeing, paddle boarding, jet skiing and water skiing.
There are four marinas and several hotels and resorts located around Lake Mead.
RECOMMENDED – 35 BEAUTIFUL LAKES IN ARIZONA FOR FISHING, SWIMMING, PICNICS AND BOATING
One of the best ways of exploring Lake Mead is on a powerboat, sailboat, houseboat, stand-up paddleboard, or even a kayak as you will be treated to fantastic views of the narrow Canyon, coves, and sandy shores.
Since it is easily accessible from nearby Las Vegas, it can be very crowded during the peak months and weekends.
Lake Mead is also known for interesting geological structures, and you can even the wreck of a B-52 Bomber plane.
CHIRICAHUA NATIONAL MONUMENT
Chiricahua National Monument is one of the furthest, taking almost 4 hours to reach, but it is one of the recommended weekend trips from Phoenix you should check out.
One of the most popular day trips from Tucson, the Chiricahua National Monument is one of the best Arizona National Monuments, free to enter, and is known for its unique geological natural wonders, abundant wildlife and rugged landscapes.
Located in the Chiricahua Mountains of southeastern Arizona, the monument was established in 1924 and is home to stunning volcanic rocks that form pinnacles, hoodoos and narrow canyons, unusual plant species, unique wildlife, beautiful drives and paved hiking trails.
If you love rocks, Chiricahua is your kind of place. The large park spread over 12,025 acres of wilderness, with its two unofficial names, the Wonderland of Rocks and the Land of Standing Up Rocks, tell you why it's one of Arizona's most popular hiking destinations. 
Twenty-seven million years ago, ash from the volcanic eruption nearby Turkey Creek compacted into rock, creating a thick layer of rhyolite.
They got eroded and fissured, shaped and sculpted over the millennia by the wind and rain, forming fascinating rock formations into towering rock needles, with their stunning hoodoos making for spectacular sights.
These precariously balanced rock towers have colourful names today, like Grottoes, Wall Street, and Big Balanced Rock, accessed via many hiking trails and drives.
You can also find many excellent pinnacles and natural bridges beside balancing boulders and rugged volcanic rocks.
RECOMMENDED – TOP 10 SUNSET SPOTS IN SEDONA YOU SHOULD NOT MISS
Once a haven for the Chiricahua Apaches, the monument is a paradise today for hikers, outdoor lovers, adventure seekers and photographers. 
Its location and limited access mean that only a few people visit, so if you want to camp under the stars with fewer or no crowds, you will love your trip to Chiricahua.
The park, home to many wildlife and plant species only found in this monument, has 17 miles of hiking trails and an 8-mile paved scenic drive.
through the national monument at a 6,500-ft high Massai Point, overlooking the gorgeous pinnacles, wildlife, plant species and rare cacti.
Popular hiking trails include Echo Canyon, the Upper and Lower Rhyolite canyons, and the Heart of Rocks Loop.
The 3.3-mile Echo Canyon Loop trail is more straightforward and can be done in a few hours, taking you to the heart of the rock formations, including Wallstreet, the Grottoes, and Echo Park. 
If you are game for an adventurous and challenging hike, the 9.5-mile Big Loop covers all the main attractions, including the Echo Canyon, Upper Rhyolite Canyon, Sarah Deming, Heart of Rocks, Big Balanced Rock, Inspiration Point, and Ed Riggs trails.
If birdwatching or wildlife viewing interests you, get on the Bonita Creek Trail to spot deer, coatimundis, and migrating birds.
If you'd like to spend more time here, camping is one of the best options to explore more of Chiricahua National Monument and enjoy stunning stargazing. 
There is a campground with 25 sites and a group site surrounded by beautiful landscapes.
Visit Faraway Ranch Historic District on the east side of the park to join their weekend tours to learn about the pioneer life in this brutal landscape.
The park is open year-round, and summer is bearable, although not the best time to be here. There is occasional snow in the winter. 
MOUNT LEMMON
Located about 4 hours away(150 miles), one of the beautiful weekend trips from Phoenix is Mount Lemmon.
Mount Lemmon is the Santa Catalina Mountains' tallest peak at 9,157 feet, and the winding drive up from Tucson is one of the most scenic drives in Arizona. 
Located in the hills just outside Tucson, the drive-up is one of the top reasons you should add Mount Lemmon on a weekend getaway from Phoenix.
On this 27-mile-long stretch, the Sky Island Scenic Byway climbs more than 6,000 feet from desert to forest.
You will climb up steadily as you can through the constant twists and turns and witness spectacular panoramic views throughout your journey.
While daytime temperatures in the summer maybe 100 degrees Fahrenheit at the foot of the hills around Tucson, they can fall below 70 degrees in Summerhaven at the top of Mount Lemmon.
So be prepared for the sudden weather changes, carry layers, and stop along the way to check out attractions.
WEEKEND TRIPS FROM PHOENIX – SMALL TOWNS AND CITIES
SEDONA
Sedona is 117 miles and within 2 hours away, it is one of the most popular weekend trips from Phoenix loved by families, couples, solo travelers and all sorts of adventure seekers.
One of the most popular small towns in Arizona is Sedona, located amidst Coconino and Yavapai, known for the spectacular red rock sandstone formations.
Sedona, discovered by two Spanish mining prospectors in 1583, was originally a ranching and farming settlement.
Sedona is one of the beautiful hotspots if you love biking, hiking, and stunning sunrise and sunsets, and no wonder it is a paradise for nature lovers and adventure-seekers.
From being a hidden gem, Sedona has grown to be also known as one of the most spiritual towns in Arizona thanks to the discovery of the Sedona vortex, hotspots of healing energy forces attracting peace-seeking souls.
Whether you want to spend a weekend with your kids outdoors hiking the iconic landmarks of AZ like Cathedral Rock and Boynton Canyon or experience its rich arts and culture and enjoy shopping at the renowned Tlaquepaque Arts and Shopping Village, Sedona has exciting things in store for everyone.
If you love driving, you can choose from the many scenic drives in Sedona, including the beautiful drive along the Red Rock Scenic Byway. 
To cool off, explore the many swimming holes near Sedona, including the famous natural water slide at nearby Slide Rock State Park in Oak Canyon.
There are many places to enjoy fabulous sunrise in Sedona, including the splendid Airport Mesa. If you are not a morning bird, don't worry, there are plenty of gorgeous sunset spots in Sedona.
Did you know? Sedona is one of the best places in the US for stargazing. 
Join one of these tours for a star-studded night surrounded by stunning night landscapes. Or better, how about camping overnight?
Jeep tours around the vortexes and the famous energy spots in Sedona are also one of the top activities you must sign up.
HOW TO REACH?
If you are arriving from Phoenix, follow the I-17 to exit 298 and continue 14 miles west, past the Village of Oak Creek. 
TUCSON
Tucson is just under 2 hours southeast of the capital of the Grand Canyon State.
Although it is a vast city needing at least a few days to explore, it is one of the best weekend trips from Phoenix you can plan if you only have a day or two.
You'll have to drive a few hours south of Phoenix to arrive at Tucson.
Tucson is nicknamed the other big city and is commonly known as America's biggest small town.
Known for miles and miles of the iconic Saguaro Cacti spread around the city, Tucson has plenty of activities and attractions, with something in store for every type of traveler.
Stop at the Arizona-Sonora Desert Museum home to the beautiful botanical garden home to many distinct wildlife besides the cacti species.
Stroll in Old Tucson, which reminds you of a classic Western movie set.
Walk the Pueblo-style architecture and taste the unique local mix of Mexican and traditional Apache-influenced cuisines at one of the many restaurants.
Witness a splendid sunset at one of the many sunset viewpoints in Tucson, or welcome your day by hiking along one of the trails to witness a beautiful Tucson sunrise.
Visit the historic San Xavier del Bac Mission church.
If you are here in summer, cool off, fish or enjoy picnic lunches at one of the many beautiful lakes near Tucson.
Head to El Presidio Historic District, where you can spend a day checking out many rich museums.
Explore San Austin de Tucson, a walled fortress erected in the 17th century by Spanish rulers.
BISBEE
Known for being one of the prominent gold mining towns in the state with a rich history of the old Wild West, Bisbee, located in Cochise County, is also known for the pleasant weather all year round.
The Arizona town of Bisbee is about three and a half hours and is one of the best weekend trips from Phoenix if you want to explore a city with a rich historical past.
Located southeast of Tucson, Bisbee, nestled in the rolling mountains, does not exude the typical charm of any Arizona ghost town, as the town is home to over 4000 residents.
But the rich past of Bisbee and its excellent location and all-year-round pleasant weather make it one of my favourite Arizona mining towns.
Bisbee was accidentally discovered in 1877 by a group of US Army scouts and cavalrymen who stumbled upon significant amounts of lead, copper, and silver. 
The word soon spread, resulting in many migrants looking to make the most of these minerals.
In a few years, Bisbee became known as the "Queen of the Copper Camps," with a mining settlement for over 20,000 miners, prospectors, and their families.
Bisbee became one of the richest mineral sites in the world, producing gold, copper, silver, and zinc, producing almost a quarter of the world's copper.
RECOMMENDED – 25 AWESOME THINGS TO DO IN BISBEE, ARIZONA
It was the largest town in the Southwest between St. Louis and San Francisco.
After a century of a prosperous run, the mines gave away as the mineral reserves depleted, with the last mine being shut forever in 1975.
Today, most of the rich historic past of Bisbee is well-preserved, thanks to the efforts of the residents, offering its visitors plenty of attractions and activities to give peeks into the golden past of Brisbee.
Walking through the old-fashioned downtown lined with whimsical art galleries, bustling shops, unique museums, cute cafes, bars, and restaurants.
Tour the museums of Bisbee Mining & Historical Museum and Bisbee Restoration Museum to get an in-depth look into the lives of miners and settlers back in the day.
Or, better, join the world-famous Queen Mine Tour, which takes you 1,500 feet underground to explore one of the abandoned mines. 
Here you will get your hands dirty wearing mining hats and slickers and riding the train deep underground to search for precious metals.
Stop at Central School and Lavender Pit, and for some spooky experiences, you can visit the Bisbee Seance Room, a Victoria parlour for the paranormal.
Join the Old Bisbee Ghost Tour strolling amidst ancient buildings and listening to the gory tales sending a chill down your spine.
Or spend overnight at the historic Copper Queen Hotel, dating back to 1902, which is rumoured to be haunted as well.
Halloween is one of the most popular times to visit Bisbee, as the whole town comes alive with many themed parties, haunted tours, and markets.
Here are the best options if you wonder where to stay in Bisbee, AZ.
Letson Loft Hotel – Letson Loft Hotel is one of the best hotels in the town. Rooms also offer a kitchenette with a fridge, a microwave and a toaster. You can also enjoy activities in and around Bisbee, like hiking and cycling. Find more details to book here.
Eldorado Suites Hotel – Eldorado Suites Hotel offers city views, this accommodation offers a balcony. The aparthotel provides rooms with air conditioning, free private parking and free WiFi.
The aparthotel provides guests with a terrace, mountain views, a seating area, cable flat-screen TV, a fully equipped kitchen with an oven and a microwave, and a private bathroom with bath and a hair dryer. Find more details here to book.
Hotel San Ramon – Hotel San Ramon is a 3-star property situated in Bisbee. Each accommodation at the 3-star hotel has city views and free WiFi. I highly recommend this for couples as it is one of the best reviewed hotels in the town. Check more details here.
Mile High Ranch – Among the top places to stay is Mile High Ranch, ideal for couples and families. Check more details here.
If you are looking for a motel, Jonquil Motel is a great choice.
PAYSON
Located in northern Gila County in central Arizona and only 1.5 hours away, Payson is one of the weekend getaways from Phoenix for outdoor lovers.
Nicknamed the official centre of Arizona for its stunning location amidst the Tonto National Forest, Payson is one of the best places to visit in the state with your kids.
Payson becomes the hotspot for outdoor activities of all kinds in spring, from hiking, biking, and horseback, to boating and fishing.
Tonto Natural Bridge State Park, home to a beautiful waterfall and the world's largest known travertine natural bridge, is just over a 20-minute drive away.
There are many other fantastic things to do in Payson Arizona with something for every type of traveler visiting throughout the year.
You can enjoy fishing, kayaking or swimming in the Payson lakes around the Mogollon Rim.
I recommend camping around the Rim Lakes Recreation Area if you have more time, and hiking through the American Gulch Trail or the Goat Camp Trail if you are here only for a few days and want to add a trail or two.
WHERE TO STAY IN PAYSON AZ?
Ronnie's Resort is one of the most popular stay options loved by families and couples, known for its excellent location and spacious rooms. Check out more here.
Majestic Mountain Inn is located in the Tonto National Forest; this hotel features 100 Ponderosa Pines on site. 
Lodge at 5600 is preferred by couples and is a perfect fit for couples if you are okay with staying in Pine. Check it out here.
Best Western Inn of Payson is one of the best picks, thanks to its excellent location. Find more here.
Best Cabins
Luxurious Bungalow in Payson is one of the new Payson cabins with top reviews for its excellent location, top-notch amenities and a perfect getaway for families and couples on West Sherwood Drive.
You can rent the entire property for yourself, a three-bedroom villa featuring a pretty patio, views of the city that you can admire from the terrace, a garden, barbecue facilities, free WiFi and free private parking.
YUMA
Only three hours from the capital city, it is one of the preferred weekend trips from Phoenix loved by families. 
Located on the banks of the Colorado River, the World's Sunniest City as mentioned on the Guinness World Records is Yuma, one of the pretty small towns in Arizona.
Yuma is packed with a great mix of history, greenery, arts, culture, and shopping, making it a family-friendly small town in Arizona.
Explore the well-kept Sanguinetti House Museum and Gardens.
Plan a day or two at the massive Imperial National Wildlife Refuge home to mountains, wetlands, deserts, and plenty of hiking trails and camping opportunities for outdoor lovers.
There are many famous breweries in Yuma waiting to be explored downtown, the best way to cool off after a day of wandering outdoors. 
Yuma deserves a weekend, and you will love visiting this charming town. Check out 35 Best Things To Do In Yuma On a Weekend for all you need to know.
WHERE TO STAY IN YUMA AZ?
Home2 Suites By Hilton Yuma Pivot Point – Home2 Suites By Hilton Yuma Pivot Point is a 3-star property preferred by couples, known for spacious rooms and excellent breakfast. Find more details here to book.
SpringHill Suites by Marriott Yuma – SpringHill Suites by Marriott Yuma features an outdoor swimming pool, with Imperial Sand Dunes only 10 minutes drive away. Check out their spacious rooms and more details here.
FLAGSTAFF
Flagstaff is one of the great weekend trips from Phoenix for all types of travelers as the city is packed with tons of attractions and activities throughout the year.
Flagstaff sits on the edge of the Colorado Plateau and is 2,106 m above sea level, so offers a great respite for people wanting to escape the heat in Phoenix.
Flagstaff can be reached from Phoenix within 2 hours if you take the I17.
If you are visiting Flagstaff for the first time, I highly recommend stopping at the fantastic historic district.
Visit the Arboretum housing over 750 species of drought-tolerant and native plants from the high-desert Colorado Plateau. 
Visit national monuments like Walnut Canyon, Wapatki National Monument, Sunset Crater, and the Montezuma Castle, all of which have historic references to the ancient Indian civilization of the Sinagua people, culture, and dwellings.
You can even take a scenic back road drive to Sedona.
If you're traveling with kids, check out Slide Rock State Park, a vast natural waterslide and one of the best swimming holes in Arizona.
Spend a weekend hiking in and around Flagstaff on the numerous scenic trails, including the popular Kendrick Peak, and Humphreys Peak, Arizona's tallest mountain, Campbell Mesa Loop or Picture Canyon.
If you are in Flagstaff in winter, ski at Arizona Snowbowl. 
JEROME
Jerome town, nestled in Yavapai County in the Black Hills, is a historic copper mining town established in the 1800s, located on Cleopatra Hill, overlooking the Verde Valley between Sedona and Prescott.
Jerome is a roughly three-hour road trip, about 111 miles away, making it worth planning weekend trips from Phoenix.
Today this National Historic Landmark is one of the best small towns in Arizona you should check out for its history and unique location.
Nicknamed the most vertical city, Jerome is also the largest ghost town in the United States.
If you want to be introduced to the culture of Arizona ghost towns, Jerome is the best place to be as it is one of the best mining towns symbolising the Old Wild West.
RECOMMENDED – 35 FANTASTIC THINGS TO DO IN JEROME, ARIZONA, THE WICKEDEST CITY
Founded in 1876 with the discovery of gold and copper deposits in the area, Jerome attracted large numbers of migrants from everywhere, mainly miners, gamblers, and old-west bad boys. 
This large-scale migration brought a wide boom, leading to the construction of many saloons and brothels.
The mines near Jerome were rich in copper rather than silver, with the mines producing 3 million pounds of copper per month, and during its peak time, the town inhabited over 15000 people.
Jerome got rightly nicknamed 'The Billion Dollar Copper Camp'. It grew into one of the wealthiest cities in the US at this time, and over 70 years, these copper mines in Jerome generated over a billion dollars worth of precious metal.
Eventually, in the 1950s, the mines began drying up. As expected, the town's population dwindled to less than a hundred, Jerome was designated a National Historic District in 1967, and artists began to flock to the town in the 60s and 70s. 
Today, Jerome is home to 450 residents, making it the largest populated ghost town. 
It is a vibrant community with old buildings of the 1800s renovated into art galleries, museums, coffee shops, antique shops, craft stores, gift and curios shops, and wine bars.
Join one of the guided tours to cover the highlights of Jerome, where you will also hear many eerie and exciting tales of this mining town and its past inhabitants.
Do you know? Jerome is also one of the most haunted towns in Arizona. There are many popular ghost tours, and if you are here for the first time, I recommend you join one.
Some of the most haunted places with bizarre and sad histories include the Ghost City Inn, Mile High Grill & Inn, a former brothel, and the Conner Hotel. 
The tour guides will tell unbelievable stories and grim events in these spots.
If you are daring, stay overnight at the Jerome Grand Hotel, also rumoured to be haunted by the spirits of patients, dead miners, and staff.
Even if you're not into the paranormal, there are many attractions worth visiting in Jerome.
Start from downtown Jerome, home to some galleries, restaurants and tasting rooms — and the famous "Haunted Hamburger" restaurant, worth stopping for lunch or dinner.
Visit the Jerome State Historic Park, home to Douglas Mansion, built in 1916 by a mining magnate.
Check out the unique Sliding Jail, a historic building and a museum constructed in the 1920s. 
Over the years, the building has slid down the hill about 200 feet to where it rests now.
The mining museum contains many excellent artefacts, photographs, and ancient equipment belonging to the miners, giving glimpses of the past of the mining town.
If you are with kids, head to the nearby Audrey Headframe Park to admire stunning views of the mountainous landscapes from the glass viewing platform over a 1918 mine shaft. 
WHERE TO STAY IN JEROME?
Top recommendations for families and couples:
Connor Hotel is one of my favourites I recommend for couples and families. Featuring a bar on site, this historic inn is 20 minutes' walk from Jerome State Historic Park.
All rooms are equipped with a flat-screen cable TV with satellite channels. Free WiFi is available. Check prices here.
The Clinkscale – Another historic hotel favoured by couples, within 40 km of Cliff Castle Casino, The Clinkscale has a bar, non-smoking rooms, and free WiFi.
At the hotel you will find a restaurant serving American cuisine. Vegetarian, dairy-free and vegan options can also be requested. Check reviews and photo
TOMBSTONE
One of the popular small towns in Arizona, Tombstone is a pretty town close to Bisbee in Cochise County and shares a common past of the Wild West and origins, with Tombstone also being discovered in the 1880s.
Tombstone, famously nicknamed the "town too tough to die," was one of the leading silver mines during the era.
Within two years of establishment, Tombstone became one of the primarily populated towns and was home to more than a hundred saloons, over a dozen gambling halls, a bowling alley, many brothels, four churches, theatres, and large public office buildings. 
Tombstone was a haven for lawless gunslingers, smugglers, cowboys, miners, and immigrants. It was abandoned in 1892 when the mines dried up.
Today, Tombstone is one of the most popular ghost towns in Arizona, receiving 400,000 tourists visiting each year.
Another thing that made Tombstone attract tourists happened after being the filming venue showcasing the infamous gunfight at O.K. Corral in the 1993 movie Tombstone. 
You can experience the old west architecture in Tombstone on one of the excellent guided tours. Or hop on a horse-drawn wagon or stagecoach.
Admire the old-time saloons, restaurants, and shops lining the old town area, especially around East Allen Street, lined with boutique gift shops and eateries. 
Check out 25 Best Things To Do In Tombstone On a Weekend for all you need to know.
Theatre enthusiasts should visit Schieffelin Hall. 
You can also attend one of the underground mining tours. 
Join mysterious tours to feel spooky at Boothill Cemetery.
Check out the iconic Bird Cage Theatre on Allen Street, a raucous saloon littered with bullet holes thanks to the infamous fight, where they regularly reenact the gunfight.
If you plan to stay overnight, I highly recommend staying at Tombstone Monument Ranch.
WHERE TO STAY?
Best B&Bs and cabins that I recommend for couples and families.
Katie's Cozy Cabins – Located in historic Tombstone, this inn is 5 minutes' walk from O.K. Corral and Big Nose Kate's Saloon. This self check-in property features a porch with a swing with each bungalow.
There is a fully equipped kitchenette, a bathroom with a shower and a sofa bed in the living room of each accommodation at Katie's Cozy Cabins. Find the reviews and book your details here.
Virgil's Corner B & B – Virgil's Corner B & B features air-conditioned accommodation in Tombstone. The bed and breakfast also offers free WiFi, free private parking and facilities for disabled guests. Find the details here to book.
COTTONWOOD
Nicknamed the Heart of the Verde Valley and the heart of Arizona wine country, Cottonwood located east of Jerome and Woodchute Mountain is one of the beautiful weekend trips from Phoenix worth planning.
Home to beautiful state parks, vineyards, and stunning trails winding alongside the Verde River, Cottonwood has retained its small-town charm despite getting popular and growing.
Wine lovers can experience the best specialities of Arizona wineries by hopping wine and spirit-tasting rooms on the Verde Valley Wine Trail.
At the same time, shoppers have plenty of boutiques, galleries, and antique shops.
PAGE
Located in Northeast Arizona, right near the Utah border, Page is one of the best family-friendly weekend trips from Phoenix.
The drive from Phoenix to Page is just over 4 hours, and with the magnificent Antelope Canyon and Lake Powell only a short drive away, Page is one of the small towns in Arizona that offers plenty of things to do and activities with something in store for everyone.
Head south of Page to explore the stunning Horseshoe Bend, one of the iconic Arizona landmarks where the Colorado River carves out a giant U shape in the surrounding countryside. 
Lake Powell is one of the best lakes in Arizona to enjoy all sorts of water adventures, from boating to canoeing, kayaking, and more.
You can even rent a houseboat and spend a few days cruising the lake, admiring the gorgeous views along the Canyons.
There are also many top national monuments of Arizona near Page, including the famous Vermillion Cliffs National Monument, which can be explored on a short drive.
The views along this route are spectacular, and this is one of the many reasons why you should add Page to your bucket list.
PRESCOTT
In about two hours, you can reach the Arizona town of Prescott from Phoenix for your weekend getaway. 
Surrounded by ponderosa pine forests, Prescott enjoys a cooler climate, sitting at around 5,400 feet, and is one of the best weekend trips from Phoenix for nature lovers.
Prescott may be larger than the other old-west towns in Arizona, but there are plenty of places to experience the small-town charm and the old-west history.
Among the popular attractions to reminisce about the old west past is Whiskey Row. 
Believed to be one of the haunted spots in Arizona, this comprises a series of buildings housing the oldest business in Arizona, many large historic saloons, the Palace Restaurant and Saloon. 
There are many tours to explore Whiskey Row and if you have time to visit only one historic spot to experience the old west history in Prescott, I would say this should be the one.
There are many fantastic things to do in Prescott no matter when you visit, so I recommend spending at least a week in this charming town.
The many pretty Prescott Lakes are the best respite from the heat, especially Watson Lake known for its spectacular views. 
It is a fantastic stop for a day trip to enjoy paddle board, kayaking, or canoeing to explore hidden coves.
LAKE HAVASU CITY
Lake Havasu City is about a 3-hour drive north of the city and one of the best weekend trips from Phoenix.
Located on Lake Havasu, this city is along the historic Route 66.
One of the most visited landmarks in Arizona, Lake Havasu, nicknamed the state's playground, is one of the best lakes in Arizona and a bucket list attraction you need to visit at least once.
Lake Havasu City, dubbed "Arizona's West Coast," is located on the northwestern part of the Sonoran Desert and features 60 miles of navigable waterways along Arizona's northwest border with California. 
The lake is the heart of Lake Havasu City that surrounds this massive lake stretching along over 400 miles of shoreline. 
There are plenty of amazing things to do in Lake Havasu City, apart from all the tons of activities to enjoy in the lake itself.
No wonder it is one of the top spring break destinations for families, outdoor adventure seekers and water sports lovers that crowd Lake Havasu.
I highly recommend keeping a day or two to explore the many attractions around Lake Havasu, also home to another magnificent attraction London Bridge.
Built-in the 1830s but moved here in 1968, London Bridge is open for pedestrian and car traffic and is a can't-miss landmark.
There are plenty of fantastic beaches at Lake Havasu State Park, where you can enjoy picnics, camping, swimming, and sunbathing. 
Lake Havasu is one of the state's best boating lakes and the top lake for bass fishing in the U.S.  It is one of the best weekend trips from Phoenix you can enjoy
Since it is the Mecca for anglers, you will find many anglers trying to catch largemouth, smallmouth, and striped bass.
All types of boating are allowed in Lake Havasu, so whether you want to enjoy jet skis or rent pontoon boats or wakeboard boats, you can have fun with all of these on your summer days.
Water skiing, tubing, kayaking, SUP, canoeing and swimming are also fun activities in Lake Havasu.
You can also rent a houseboat, book a cabin in Lake Havasu State Park or camp under the stars at a campsite. There's beachfront and RV camping.
One of the romantic things to do in Lake Havasu is join one of the beautiful sunset cruises that include dinner and music. 
Admire the beautiful views of the setting sun, painting the skies in hues of orange, yellow, red, and blue.
For hikers, there are many pretty desert trails nearby, including the famous Mohave Sunset Trail winding through the brush and trees near the shoreline.
Visit the Lake Havasu Museum of History to learn about the construction of the Parker Dam that created the Lake.
MAP OF WEEKEND TRIPS FROM PHOENIX
Latest posts by Veronica Samuels
(see all)