Arizona National Parks are home to the most diverse, distinct and abundant landscapes among the USA national parks and reservation areas.
Arizona is known for its distinct and intriguing wilderness, and much of its ruggedness and rich natural wonders can be attributed to its conservation areas.
National Parks in Arizona are home to volcanic cinder cones, driest deserts, gorgeous rock formations, beautiful buttes, rugged canyons, and geographical and natural wonders that draw archaeologists, historians, photographers, nature lovers, and outdoor adventure seekers in millions.
These landmarks also protect and preserve the rich Native American history and culture of the native inhabitants.
There is indeed a park for everyone in Arizona. Whether you love hiking, camping under the stars, or capturing fascinating landscapes with your lens, these Arizona National Parks provide the best playground for outdoor adventure and fun.
In this post, we'll share all you need to know about the greatest Arizona National Parks.
HOW MANY ARIZONA NATIONAL PARKS ARE THERE?
How many Arizona national parks can you find? Officially, there are three national parks in Arizona, but 31 Arizona National Parks are categorized under National Monuments, National Memorials, and National Historic Sites. 
All these are managed by the National Park Service(NPS) and the Bureau of Land Management(BLM) or sometimes by the local governing bodies.
MORE ABOUT ARIZONA NATIONAL PARKS
GRAND CANYON NATIONAL PARK
The nearest city to Grand Canyon National Park: Phoenix, Flagstaff, Las Vegas
Best time to visit: Fall and winter
Famous for: Extraordinary landmarks and natural wonders
One of the most famous national parks in the world, The Grand Canyon is one of the top Arizona National Parks and the most visited destination in the State. 
The Grand Canyon has many feathers to its cap and needs no introduction.
The Grand Canyon boasts some of the most spectacular scenery on earth and is renowned for its splendour, size, and exquisite natural wonders. 
This UNESCO World Heritage Site is one of the Wonders of the World, the largest canyon in the United States, and among the largest parks in the world.
Sprawling over a massive strip of northwestern Arizona for over 280 miles of the Colorado River and adjacent uplands, 18 miles wide at its widest point and a mile deep, words do not describe this national park.
Nothing can prepare you for your first visit to this wonder. Because no matter how many pictures you've seen, the sheer spectacle and the colossal scale of this wonder can only be best experienced by exploring.
RECOMMENDED FOR YOU – 25 BEST BEACHES IN ARIZONA FOR YOUR BUCKET LIST
Formed over billions of years by erosion over the aeons by the Colorado River, this canyon is packed with maze-like corridors, layered bands of colourful rocks, seemingly-endless cavernous canyons reaching a depth of over 2000 meters, rugged rims, and phenomenal views wherever you look.
This massive park has a wide range of hikes for all skill levels. If you love hiking, you must not miss the famous trails Kaibab, Hermit, and Bright Angel, which are also popular spots for enjoying a spectacular sunrise or sunset in the Grand Canyon.
Take a rafting trip down the Colorado River. Check out the excellent Geology Museum and terrific Trail of Time exhibition to learn about the canyon's lovely layered landscapes.
Not many know Grand Canyon National Park is also blessed with vibrant wildlife.
From bighorn sheep to little brown bats and California condors, the canyon is home to thousands of endemic species.
Recommended – A Complete Guide To Visiting The Grand Canyon In the Winter(Yes, You Can Visit In the Winter!)
Although this is the furthest Arizona national park from Phoenix, you can plan a trip from Phoenix to Grand Canyon National Park as it can be reached in 4 hours. No wonder it is one of the top weekend trips from Phoenix.
PETRIFIED FOREST NATIONAL PARK
The nearest city to Petrified Forest National Park: Holbrook
Best time to visit: Summer
Famous for: Extraordinary natural wonders, including 225-million-year-old fossilized trees.
Among beautiful Arizona National Parks that draw visitors due to its magical landscapes is Petrified National Forest.
Located less than 4 hours northeast of Phoenix in eastern Arizona, near the New Mexico border, this is one of America's most underrated national parks.
This beautiful national park has been protected since 1906 and is heaven for exploring one of the most ancient landscapes in the world.
Petrified Forest National Park is known for its fossils and is a paradise for palaeontologists, historians and archaeologists, for it is home to vast acres of landscapes encompassing 225-million-years old fossilized trees from the Late Triassic period, which was the dawn of the dinosaurs. 
You can hike on the lands where dinosaurs roamed and stand where ancient forests fell.
These ancient tree trunks are spectacular and have survived thanks to the minerals they absorbed after submerging in a riverbed nearly 200 million years ago. 
RECOMMENDED FOR YOU – 10 BEST SPOTS FOR WATCHING EPIC SUNRISE IN SEDONA
Many of these wooden logs have transformed into solid, sparkling quartz, including citrine, amethyst, and jasper.
This mineral-tinted landscape basks in colours in the sunlight, offering fantastic panoramic views.
Petrified National Forest is home to painted deserts, striated canyons, fossils of ancient creatures, and even dinosaurs. 
Check out the Crystal Forest and Long Logs Trails if you love hiking trails.
The red-coloured badlands, the blue-banded rock formations, Blue Mesa, and Puerco Pueblo are iconic landmarks in the forest explored on hikes and mountain biking.
Historic Route 66 and Native American sites are other attractions comprising Petrified Forest National Park.
Jasper Forest Trail is among the popular longer hiking trails known for its gorgeous views.
Check out the Painted Desert Visitor Center and Rainbow Forest Museum, where you can learn about the area's impressive history, geology, and nature.
SAGUARO NATIONAL PARK
The nearest city to Saguaro National Park: Tucson and Phoenix
Best time to visit: Spring and Early Summer 
Famous for:  the tallest and oldest saguaro cacti in the world
One of the popular weekend trips from Phoenix for outdoor lovers and adventure seekers is Saguaro National Park.
One of the beautiful Arizona National Parks, this park is located 2-hours away from Phoenix. It is also a popular weekend getaway from Tucson, much closer.
Saguaro National Park is home to huge forests of saguaro cacti, including America's tallest and most iconic cactus species.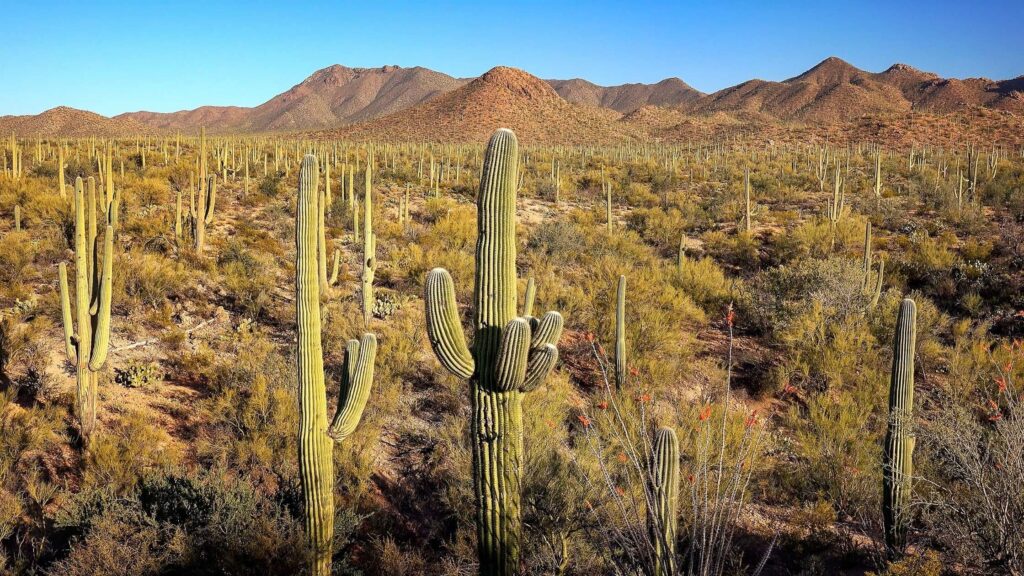 These large, majestic branching cacti reach heights of more than 40 feet, living over 250 years and dominating the landscapes creating stunning and rugged panoramas.
The majestic saguaro, recognized worldwide as a symbol of the desert and an iconic image of the American Southwest, only appears naturally in the Sonoran Desert—which stretches across the southwestern United States on either side of Tucson.
Founded in 1933 by President Herbert Hoover, the Tucson and Rincon mountain ranges run through the park. 
The sweeping valleys dotted with forests of spiny saguaro towering up to 15 meters in height make for a distinctive sight with their prickly pears and blooming buds, and sunset is one of the most beautiful and distinct as these vegetations form alluring silhouettes.
RECOMMENDED FOR YOU – 8 BEST CAVES IN SEDONA YOU SHOULD EXPLORE
Saguaro National Park is divided into two segments, one on either side of Tucson, named the Rincon Mountain District east of Tucson and the Tucson Mountain Unit west of Tucson, covering over 54000 acres.
On the west side, in the Tucson Mountain District, which is smaller and more accessible, you'll find the densest stands of saguaro and sweeping views from the Valley View Overlook Trail.
Many short hiking trails are ideal for beginners to explore the national park, including the unpaved Bajada Loop Drive driveway.
The Rincon Mountain District, on the east side, is more remote and includes a large mountainous region with summits over 8,000 feet.
Rincon Mountain also features the park's famous Cactus Forest Loop drive and offers stunning sunset and sunrise views.
There are lots of trails in the park of different difficulty levels for hiking and biking, which will take you across its dazzling and dramatic landscapes.
Although Saguaro National Park is a hiker's paradise all year round, avoid the midday sun in the summer.
One of the most popular times to visit Saguaro National Park is late spring into early summer, the time of saguaro bloom with giant waxy white flowers, which is also an Arizona state symbol.
Hike the Hope Camp and Ridgeview Trails in spring for colourful wildflower displays and beautiful views.
Other Saguaro National Park attractions include Native American rock art and a 19th-century homestead. Check out the visitor centre for plant and animal exhibits. 
The national park is home to roadrunners, coyotes, Gila monsters, and many types of snakes, which you should watch out for while hiking.
ARIZONA NATIONAL PARKS FOR OFF-THE-BEATEN TRAVEL
Apart from the above national parks in AZ, you can also explore the following national recreation areas and a historic park.
TUMACACORI NATIONAL HISTORIC PARK
Tumacácori National Historical Park is located in the upper Santa Cruz River Valley in Santa Cruz County in southern Arizona and is known for the state's Spanish history spanning over 360 acres.
The park houses the ruins of three Spanish mission communities dating to the 17th century, with two being National Historic Landmark sites.
Check out two other sites at Tumacácori National Historical Park, the Guevavi and Calabazas settlements, although much less-well preserved are worth visiting, along with a courtyard garden.
GLEN CANYON NATIONAL RECREATION AREA
Although primarily in Utah, the southern end of Glen Canyon National Recreation Area is located at Wahweap near Page in Arizona and is one of the top attractions near Page. 
Glen Canyon National Recreation Area spans more than 1.25 million acres, from Lees Ferry in AZ to Orange Cliffs of southern Utah, and is known for Lake Powell, which is the centre for many water and backcountry recreation activities during summer.
Lake Powell, created in 1964 after the flooding of the Colorado River by Glen Canyon Dam, is a famous spot for picnics.
The surrounding landscapes comprising red rock wilderness and narrow canyons offer many hiking trails leading to the heart of the wilderness.
LAKE MEAD NATIONAL RECREATION AREA
Lake Mead National Recreation Area along the Colorado River is the first and largest national recreation area in the United States. 
The recreation area, spanning around 1.5 million acres, runs along the large lake formed in 1935 by the construction of the Hoover Dam across Black Canyon and the smaller Lake Mohave, behind Davis Dam. 
Lake Mead has many beaches, marinas, and picnic areas overlooking the fantastic landscapes dotted with valleys, canyons, mountains and views of beautiful turquoise waters. 
YUMA CROSSING NATIONAL HERITAGE AREA
Located near Yuma, one of the famous city getaways for locals and tourists is Yuma Crossing NHA, home to an exquisite collection of natural, cultural and historic resources on Yuma and the history of the Colorado River.
ARIZONA NATIONAL PARKS MAP
FAQS ABOUT ARIZONA NATIONAL PARKS
How many national parks are in Arizona?
There are 3 National Parks in Arizona – Grand Canyon National Park, Petrified Forest National Park and Saguaro National Park. Arizona is also home to one National Historical Park, Tumacacori.
What is the most beautiful park in Arizona?
Grand Canyon National Park is the most famous of all the national parks in Arizona and is one of the most visited parks in the United States, located along the Colorado River. 
What national parks are near Phoenix?
Some famous national parks near Phoenix are Canyonlands National Park, Glen Canyon National Recreation Area, and Bryce Canyon National Park. 
What is the name of Arizona's National Park?
There are 3 National Parks in Arizona – Grand Canyon National Park, Petrified Forest National Park and Saguaro National Park. Arizona is also home to one National Historical Park, Tumacacori.
Does Sedona have a national park?
Sedona is not Sedona National Park. Sedona is a city in Arizona and is home to two state parks: Red Rock State Park and Slide Rock State Park. 
Latest posts by Veronica Samuels
(see all)