Wondering what Sedona in November is like? Sedona is one of the best destinations in Arizona in the fall, and there are plenty of fantastic reasons why.
For starters, the weather gets pleasant as the fall season brings the fantastic hues of Aspen, Oak and pine, painting the landscapes with red, yellow, orange and golden.
Besides enjoying hiking, camping, and biking, plenty of fun activities happen in Sedona in November, making it an ideal time to enjoy with your kids outdoors.
Whether you are looking for a romantic getaway or an adventurous, outdoorsy holiday, in this post, you will find all the details to experience a fantastic trip to Sedona in November.
If you are visiting Sedona during a specific month in the winter, check these guides:
A Guide To Visiting Sedona In December – A Perfect Christmas Getaway
15 Best Things To Do In Sedona In January With Your Loved Ones This Holiday
OTHER RECOMMENDED POSTS ON SEDONA FOR YOU
Hiking the Doe Mountain Trail – A Total Guide
A Complete Guide to Hiking the Birthing Cave Sedona
What You Need To Know To Hike The Fay Canyon Trail
Why the Cathedral Rock Hike Must Be On Your Bucket List!
How To Hike The Keyhole Cave In Sedona
A Fun Day Trip To Seven Sacred Pools In Sedona
The Best Routes To Hike The Soldier's Pass Cave In Sedona
A Complete Guide To Hiking The Baldwin Trail, Sedona
How To Easily Hike The Red Rock Crossing – A Fun Outdoor Adventure
8 Top Sedona Hot Springs To Unwind Amidst Gorgeous Landscapes
WHAT IS THE WEATHER IN SEDONA IN NOVEMBER?
As I mentioned earlier, Sedona is stunning during the fall season. November in Sedona Arizona will be slightly on the colder side. 
But the weather in Sedona is still mild and relatively enjoyable.
Expect an average temperature of around 17°C, but temperatures cool down as the day progresses to chilly, freezing nights with temperatures around 6°C.
However, due to the elevation, temperatures will be cool in the mornings and warm up as the day progresses. 
Pack layers and plenty of water when you head out for the day.
DOES IT RAIN IN SEDONA IN NOVEMBER? 
Yes, it does rain in Sedona in November, but not that much compared to Sedona's rainiest month during the summer in the month of August. You can expect around five rainy days on average.
DOES IT SNOW IN SEDONA IN NOVEMBER?
While it can snow in Sedona in November, the chances are very slim, as Sedona receives snowfall later during the winter.
So you are more likely to experience colder temperatures than you are to experience snow in November in Sedona.
BEST THINGS TO DO IN SEDONA IN NOVEMBER
DRINK CRAFT BEER
Your trip to Sedona in winter won't be complete without a visit to some of the area's best breweries.
The best breweries in Sedona should be on your itinerary whether you are a beer lover or the type that is curious to explore the local brews on your travel.
Although the beer scene in Sedona may not be well-established, it is certainly growing, with more and more Sedona breweries opening to visitors, perfect for unwinding after being in this paradise for outdoor enthusiasts and adventure seekers.
Whether you plan to take brew tours or want to end the days tasting the brews after checking out the attractions and things to do, visit the best Sedona breweries to experience delicious local craft beers, as there's a brewery in Sedona for everyone. 
GO ON A KAYAK ADVENTURE
If you are planning an early trip to Sedona in winter in November, one of the best ways to soak in the stunning outdoors is by renting inflatable river kayaks on the wild Verde River.
Don't worry about the gear since Verde Adventures provides everything you need. 
Expect to see the rich wildlife along the way, such as deer, beaver, blue heron, etc.
On this adventurous journey, you may spot wildlife as you kayak along the river for over 5 miles. 
It is perfect for beginners and the currents are less, so add this fun experience to your trip.
JOIN YOGA SESSIONS
Considered one of the most spiritual places in the Southwest, Yoga is quite popular in the town, embraced by the locals and visitors alike.
One of the best things to do in Sedona in November is join one of the different types of Yoga sessions, from hot Yoga to Yoga outdoors, including meditations.
Join a yoga retreat to witness the spiritual vibe of the city, a unique experience amidst the gorgeous white landscapes in Sedona in winter.
GO ON ONE OF THE SCENIC DRIVES
One of the best ways to enjoy Sedona in November is by driving through the scenic routes.
There are many beautiful scenic drives near Sedona offering you the fantastic outdoors of this region, home to powerful vortexes, stunning Arizona slot canyons, hot springs, rugged views of the tremendous red-rocks landscapes, beautiful creeks amidst juniper and oaks.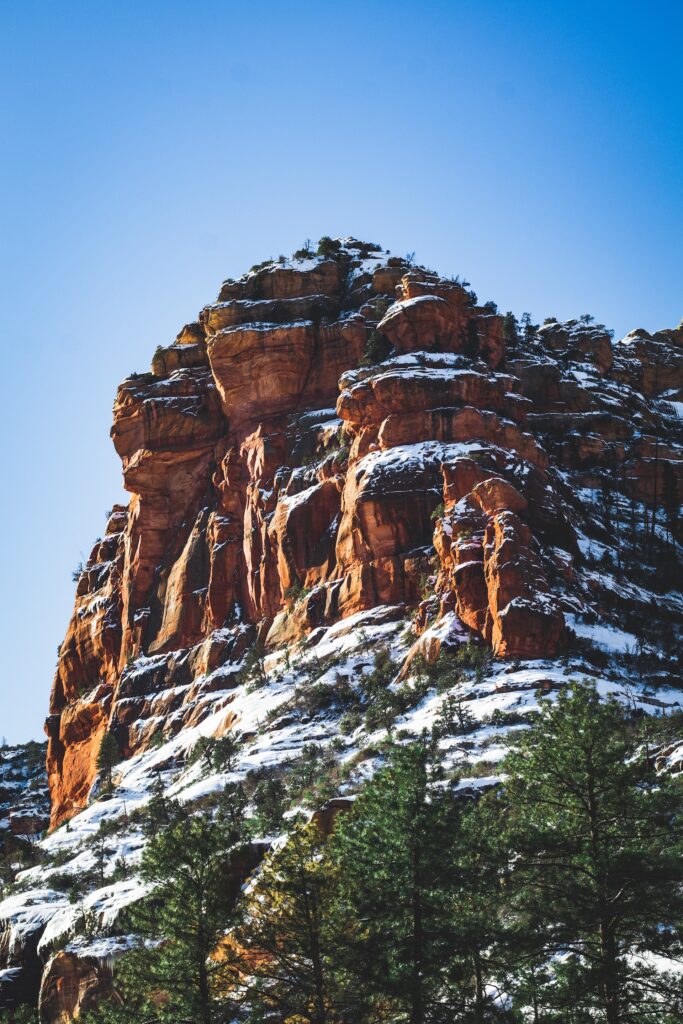 These routes range between 30 minutes to a few hours, so depending on your preferences, pick one of these routes for a fabulous time on the road.
The Red Rock Scenic Byway is one of these enticing, 30-minute long road trips as you will be treated to 7.5 miles of stunning scenery featuring red rock formations and plenty of lookout points and ending up in Oak Creek.
ENJOY WINTER CAMPING IN SEDONA
Sedona is surrounded by fantastic landscapes making it a paradise for outdoor lovers.
One of the best ways to experience the magnificent landscapes and views is by camping in Sedona in November.
Many campgrounds are near Coconino National Forest and Oak Creek Canyon, with some needing reservations.
Get your sleeping bags, insulated jackets, thermals and other camping essentials to camp under the stars on your winter trip.
But because of its popularity, it can be challenging to get a spot camping in Sedona in November.
If you are specifically planning a Sedona camping trip in November, it is best to book your campsites at least 6 months before.
PLAY A ROUND OF TEE OR TWO
If you love Golf, Sedona is the best place to enjoy a round or two.
Sedona is home to many fantastic world-class golf courses, with many offering beautiful views of the Red Rocks.
The fall weather in Sedona is excellent for playing golf and snacks in between overlooking magnificent views.
WHAT TO DO IN SEDONA IN NOVEMBER – FOR ADVENTURE LOVERS
CANYON ATV TOUR
If you are looking for adventurous things to do in Sedona in November, try the Sedona Canyon ATV tour.
With over a hundred miles of trails available, you can choose your adventure by joining a tour like this, which will take you through beautiful views of Verde Valley.
TAKE A HELICOPTER TOUR
Want to enjoy bird views of beautiful Arizona?
Take this helicopter tour to admire the stunning landscapes of Arizona from above, as you fly over Sedona's famous red rock formations, including cliff dwellings, mesas and buttes.
Unlike hot air balloon rides, helicopter rides are fast and quick but cover more ground.
When booking a helicopter in December, make sure to join in the morning to see many vibrant colours.
I highly recommend adding this 2-hours tour to your trip to Sedona in winter for fantastic aerial views stretching far across
HIKE THIS VORTEX
Sedona has long been regarded as a place both sacred and powerful, and people come from around the world to meditate and experience the mysterious cosmic forces within the area.
These vortexes, or powerful energy fields, are used for healing, meditation, accessing psychic abilities, and spiritual and self-exploration.
One of the famous vortexes in Sedona is Bell Rock, one of the first red rock formations that you will notice in the city.
Due to its more accessible trail and gorgeous formations, the Bell Rock Loop Trail is a popular spot among locals and visitors.
Although it is a short trail, the uphill climbing will make it a 30-minute journey to get to the base section of Bell Rock from the parking area.
A vast viewing platform offers splendid views of the sunrise in Sedona. 
For more adventure, you can climb further to reach the upper portions of the rock. 
Also, check out Courthouse Butte in the early morning sunlight.
GO HIKING IN SEDONA IN NOVEMBER
Besides hiking the vortexes, November in Sedona is the best time to explore tons of other splendid hiking trails.
Check out Red Rock State Park, home to the most famous hiking trails in Sedona.
Looking for easy ones? I highly recommend checking out Fay Canyon the Baldwin Trail or the famous Devil's Bridge. 
If you want a challenging, hike to one of the gorgeous Sedona caves or take in the views of the magnificent Cathedral Rock.
No matter what your experience level is or your preference, or traveling with kids or pets, there are many fantastic hikes to choose from when in Sedona in the fall.
But the biggest drawback of hiking in Sedona in November will be the crowded trails.
Since fall is the second most popular time to visit Sedona, hiking and mountain biking trails are packed, with accessing parking a hassle.
The earlier in the day you start, it will be better, or if you want to avoid the crowds, head to off-the-beaten trails.
ENJOY MOUNTAIN BIKING
Rent mountain bikes and make your way through heart-racing trails leading you to spectacular landscapes in Sedona in November if you are an adventure game!
If you're looking to book a guided mountain biking tour, there are options for every skill level, especially to meet new people and listen to many interesting local tales about Sedona's mystic charm.
Here are some of the best biking tours I recommend worth checking:
INDULGE IN WINTER SPORTS
About an hour from the city, Arizona Snowbowl is one of the most popular resorts skiing in Arizona, located atop mountains formed by an eroded volcano millions of years ago.
It is a popular option for a day trip from Flagstaff and Phoenix.
It is one of the best places to visit near Sedona in November to enjoy winter sports with your kids.
Nestled in the majestic San Francisco Peaks, Arizona Snowbowl is known for its magnificent views of Humphreys Peak, the highest mountain in Arizona.
The weather at Snowbowl is pleasantly sunny, even during the winter. 
But notorious, unexpected snow storms lead to heavy snow quickly piling up.
Because of the cool weather and traces of snow still remaining, spring is also a popular time for skiing at Snowbowl.
The Snowbowl is also home to the only gondola in Arizona.
Also called Telemix, this lift combines eight-passenger gondolas, whipping you up 2,000 feet in just 7 minutes.
From the top, you will be treated to fantastic views of the valley below blanketed in snow.
From here, you can access the bowl area, glades, and all the intermediate runs.
Note that Weekends and powder days are generally crowded, and long queues for the lifts are standard.
You can also hike along the diamond trails in the Upper Bowl.
With 777 acres of skiable terrain, this is the destination in the state you should visit if you're serious about skiing in Arizona.
Considered by many to be the premier Arizona ski resort, its location at 11,500 feet makes for an epic ski experience since it boasts the best ski slopes in Arizona.
With five lifts serving 32 runs ranging from easy to complex, the Arizona Snowbowl is one of the most challenging ski areas in the West.
If you are a beginner or families with small children, head to the Hart Prairie Chair to enjoy a gentle slope with many wide-open spaces.
If you are a seasoned skier looking to up your game, head near the Humphreys Peak chair, the Grand Canyon Express or Sunset Chairs. 
After you've made it up and down, head to the beautiful outdoor patio area, The Hart Prairie Lodge patio to relax.
Have your favourite drink amidst new fire pits, in your perfect lounging spot, soaking up the sun.
If you are serious about learning skiing in Arizona, Arizona Snowbowl has an excellent ski school and is a perfect place to learn. 
If you are over 13 years of age and new to skiing, Arizona Snowbowl has programs that will provide you with free or deeply discounted lessons. 
Open to both skiers and snowboarders, Snowbowl also boasts a Terrain Park with rails and spines.
There are two mountain day lodges nearby with restaurants and lounges.
Usually on the weekends, the area becomes more bustling as ski races happen and live music and DJs play the latest hits, making it a fun holiday getaway.
Opening Months – Mid-November to Late May 
HOW TO GET THERE
The nearest airport is Flagstaff Pulliam Airport about 20 miles away. 
If you are flying to Phoenix(Phoenix Sky Harbor Intl. Airport), renting a car is the best option. 
It will take around 3 hours on Interstate 17 and you will be treated to stunning views. 
But note that the drive-up can be challenging on snowy days if you are driving. The road is filled with bends and steep, and chains are frequently required.
If you are driving from Sedona to Arizona Snowbowl, on Highway 89A up Oak Creek Canyon can be challenging on snowy days. 
This journey takes around 1.5 hours(longer if conditions are tricky).
FREE SHUTTLE
If you are visiting during January and February, on the weekends, a free shuttle runs from downtown Flagstaff every 20 minutes from two locations in town.
WHERE TO STAY?
If you want a closer stay, check out the base camp at Snowbowl, on the way up to the ski resort.
There are 18 cabins and six hotel-style rooms, Basecamp at Snowbowl is pet-friendly for a modest charge, and the on-site restaurant serves up hearty fare guaranteed to keep you going no matter how deep the snow.
TAKE A HOT AIR BALLOON RIDE
One of the most popular tours loved by visitors and locals alike is the hot air balloon ride over Sedona in November, where you can tower above the red rocks, and mesas, and soak in blissful views of Red Rock County.
It is undoubtedly a romantic idea to experience Sedona to experience gorgeous Arizona fall colors.
I highly recommend taking the tour in the morning to watch the stunning sunrise.
As the balloon starts to rise from the ground, you get to see one of the most beautiful sunrises from above, colouring the landscapes in vivid colors.
Here are some of the high-rated tours that I recommend
ENJOY STARGAZING IN SEDONA
If you are like me and love gazing at the stars, you will love it here at night as the clear weather in Sedona in November at night means sparkling stars above you everywhere.
Bundle up and enjoy stargazing in Sedona at night, one of the fun romantic things to do.
Sedona is one of only twenty certified Dark Sky Communities in the world, and make the best use of your time by picnicking under the stars or driving to the best viewpoints around the city.
For a fantastic night, I highly recommend this Night time UFO & Stargazing Tour where you will hear mysterious stories of hovering objects above!
But wear layers as the temperatures are chilly, and check for storms.
TRY ROCK CLIMBING
While Arizona is one of the best places for lovers of rock climbing thanks to its rugged desert landscapes, Sedona especially is a favourite.
Thanks to its excellent location at the southern end of the Colorado Plateau, home to endless sandstone spires, mesas and buttes of all sizes and shapes, the city beckons adventure seekers of all experience levels.
If you're looking for a guided rock climbing tour, check out this tour or this one.
GO ON A PINK JEEP TOUR
Hop aboard a Jeep and prepare to take in the stunning views of the 1,500 ft towering cliffs of Oak Creek Canyon and its gorgeous natural panoramas.
One of the best adventurous things to do in Sedona in November, you can admire views of the Colorado Plateau by climbing 2,000 ft along its south rim on one of these Pink Jeep tours.
Here are some of my recommendations for the best Jeep tours to enjoy Sedona sunrise:
Sedona Outback Trail Jeep Adventure – A top-rated 2-hour tour; check out more details here.
Sedona Vortex Tour by Jeep – A fantastic tour also cover Vortex. Find out more here.
Private Gambler Trail: Rugged 4×4 Hummer Tour in Sedona – Recommended if you are looking for a private tour. Check details here.
You can also rent a Polaris RZR 4-Seat for an entire day – I highly recommend this if you are in a group or a family. Saves money and time. Find more details here
CATCH THE SUNSET OR SUNRISE
Watching a glorious sunrise in Sedona is one of the best things to experience when you plan a trip to this desert town.
Packed with gorgeous geological wonders, including vortexes and red rocks, you have plenty of spots to watch the golden, bright orange and yellow sunshine colours transform the panoramas into beautiful scapes.
In addition to Sedona Sunsets, add watching the sunrise to your itinerary, especially if you love views of the mornings.
The sunrise in Sedona in November usually happens between 6:45 AM and 7:15 AM, which means you don't have to wake up early, like at 5 AM(another reason to be in Sedona in November to enjoy stunning sunrise).
The distinct landmarks make these early dawn hours special, surreal views you will remember for a long time.
No wonder photographers from all around the world flock to capture the phenomenal spectacle every day.
Also, if you are visiting Sedona in winter, especially in Novemer, the sun sets at around 5:30 PM so you can easily add a drive to watch the setting sun amidst gorgeous landscapes.
The timing also leaves plenty of time to hike and get back.
Bring a headlamp and carry jackets always while opting for any sunset hike in Sedona.
ATTEND ONE OR MORE FUN EVENTS
Sedona in November you will have the chance to take part in one or many bustling events to meet fellow travelers, get to know the history and culture of Sedona besides have a fantastic time.
Food lovers should check out the Food Truck Festival, while if you are looking for a detox or a spiritual retreat, there is no better than November to be here in Sedona.
You can choose from the many detox retreats to meditation weekends, including healing sessions and attending Yoga classes and workshops.
Adventure lovers will love the Sedona Red Rock & Grand Canyon Adventure Encore Symposium.
WHERE TO STAY IN SEDONA?
APARTMENTS AND LUXURY HOTELS
A Sunset Chateau – This bed and breakfast features an outdoor pool and hot tub, A fully equipped kitchenette and stunning mountain views from select rooms. 
Hiking is possible in the nearby area. A Sunset Chateau is highly loved by families and couples. Check out rooms and the latest prices here.
Junipine Resort – Offering apartments with a full kitchen and a living room with a fireplace, this resort boasts rustic elegance. Close to the creek and many attractions, it is one of the best places to indulge. Check out rooms and the latest prices here.
Enchantment Resort – If you want a luxurious experience, check out Enchantment Resort, known for its spectacular vistas of Boynton Canyon. 
Enjoy luxurious delicacies and outdoor activities, besides enjoying the comforts of suites and villas with private balconies. Check out rooms and the latest prices here.
Adobe Village Villa with Private Patio – Sunset Villa – Boasting air-conditioned accommodation with a patio, Adobe Village Villa with Private Patio – Sunset villa offers access to a balcony and free private parking.
It is one of my favourite recommendations for its rich exteriors and comfortable villas. Check out rooms and the latest prices here.
Sky Ranch Lodge – Sky Ranch Lodge provides spacious accommodation with a seasonal outdoor swimming pool, free private parking, a garden and a bar. Check out rooms and the latest prices here.
El Portal Sedona Hotel – El Portal Sedona Hotel is 20 20-minute drive from Red Rock State Park. You can also enjoy a spa bath, which is also featured in some rooms. Check out rooms and the latest prices here.
Matterhorn Inn – Matterhorn Inn provides excellent accommodation with an outdoor swimming pool and free WiFi throughout the property. The 4-star hotel has mountain views. Check here for the latest prices and deals.
If you are looking for a B&B, I recommend Whispering Creek Bed & Breakfast, which features accommodation with free WiFi, barbecue facilities, a shared lounge and free private parking. They have excellent reviews and great prices. Click here for more details. 
MID-RANGE HOTELS
Hilton Vacation Club Sedona Summit – Situated in the Sedona Plateau and offering stunning views of the Arizona desert, Hilton Vacation Club Sedona Summit features studios and one and 2-bedroom suites. Check out their reviews and prices here. Check out rooms and the latest prices here.
Sugar Loaf Lodge – Offering a seasonal outdoor pool and a hot tub, Sugar Loaf Lodge is one of the top-rated hotels. Check out rooms and the latest prices here.
FINAL THOUGHTS ON VISITING SEDONA IN NOVEMBER
Sedona in November is a fantastic time in general, and if you are not here for Christmas or want to avoid the peak months, November is the best time.
As you can see, the month offers plenty in store with something for everyone, and you will be treated to magnificent fall colours that will be a memorable experience for you.
MAP OF THINGS TO DO IN SEDONA IN NOVEMBER
Latest posts by Veronica Samuels
(see all)