Planning to visit Arizona in December? You will have an unforgettable experience in the Grand Canyon State, a unique trip with your family.
Unlike the other hotspots in the US, winter in Arizona is one of the best times, thanks to the pleasant temperatures perfect for exploring the rugged desert landscapes, tons of Christmas events, and spectacular views you can admire.
Whether you want to spend December in Arizona in the bigger cities, retreat to the mountains, or stroll the streets soaking in the charm in the small towns, there is something in store for everyone in the Copper State.
Prices are affordable, you get some surprisingly amazing deals on hotels, tours, complimentary activities for kids and plenty of options to feast on all holiday delicacies.
Check this guide to know what to do in Arizona in December, the weather, and the best places to visit.
MORE CHRISTMAS AND WINTER POSTS TO PLAN YOUR TRIP
WHAT IS THE WEATHER IN ARIZONA IN DECEMBER?
What is the weather in Arizona in December like? Well, depending on where you plan to go and what you like to experience, expect varying temperatures in different parts of the state.
If you want to visit the Grand Canyon in the winter or other famous natural monuments in northern AZ, the temperatures are cooler, with some places experiencing magical snowfall.
If you want snow, go up in the north. In less than a few hours, you can be up in Arizona's mountains skiing among evergreen forests.
If you go to Phoenix in winter or anywhere in southern AZ, expect pleasant sunny days, ideal for outdoors, swimming, or exploring the top sights.
But no matter where you go to experience Arizona in the winter, the temperatures change dramatically when you least expect, from sunny noons to chilly desert nights and splashes of rain in between.
So it is best to bring layers along with your summer clothes.
THINGS TO KNOW BEFORE VISITING ARIZONA IN DECEMBER
Arizona in December offers plenty of magical Christmas experiences, so if you plan to celebrate the holiday here, Arizona is a great destination.
Another advantage to visiting Arizona in December is the Grand Canyon State is that the cities and towns are less crowded than in January or February and more pocket-friendly as well, despite being the holiday month.
In general, Arizona in the winter is surprisingly an expensive time to visit, which most people overlook, especially southern Arizona, which is the most expensive and crowded.
The hotels and rental cars are usually booked, with their rates at their peak, especially on holiday weekends, so it's best to plan your trip well ahead for holiday deals. 
Some places in Arizona in winter can be dry, with single-digit temperatures, especially in the White Mountains, up north like Flagstaff, and if you are here for the first time, it is best to keep moisturiser, lip balm and sunscreen, too. 
Although most National Parks, National Monuments, State Parks, and reserve areas are open to hiking and camping, some routes or sections can get closed.
Also, many need prior permits/reservations, so check online before you plan your Arizona winter trip.
If you are hiking or doing lots of outdoor activities, it is best to stay hydrated. Carry electrolyte drinks and snacks if you need them.
Road closures and blockages are expected in Arizona in the winter, and sometimes, unfortunately, you may have to spend overnight in your vehicle, too, if unexpected snow storms occur. 
So carry spare blankets and layers to stay comfortable.
But Arizona in December may have fewer of these road closure hassles as most places do not experience maximum snowfall until late January.
In the winter, you will likely need several layers of clothing throughout the day, so be sure to pack some moisture-wicking fabrics for outdoor activities as well as a good hat or two and lots of sunscreen.
If you are doing hikes around sunrise or sunset, check out the time required and the sun timings, as the days are relatively shorter, and it is not recommended to hike in the dark.
The weather will get freezing at night in Northern and Southern Arizona, although some places in the south can even be sunny during the day.
So carry hiking gear, sturdy walking shoes, sufficient layers, and only camp if you are used to freezing temperatures and have prior camping experience.
If you are looking for chilly temperatures, head to Sedona and Flagstaff, with Flagstaff being the hotspot for winter adventure and also close to ski resorts, home for cross-country skiing, and snowmobile trails.
If you want a warm winter destination in Arizona in December, I highly recommend heading to Phoenix, Tempe, Mesa, Tucson and Yuma.
BEST THINGS TO DO IN ARIZONA IN DECEMBER
INDULGE IN WINTER SPORTS
About an hour from the city, Arizona Snowbowl is one of the most popular resorts skiing in Arizona, located atop mountains formed by an eroded volcano millions of years ago.
It is a popular option for a day trip from Flagstaff and Phoenix, and one of the highly recommended fun things to do in Arizona in December with kids.
The Snowbowl is one of the best places to visit during Christmas in Sedona to enjoy winter sports with your kids.
Nestled in the majestic San Francisco Peaks, Arizona Snowbowl is known for its magnificent views of Humphreys Peak, the highest mountain in Arizona.
The weather at Snowbowl is pleasantly sunny, even during the winter. 
But notorious, unexpected snow storms lead to heavy snow quickly piling up.
Because of the cool weather and traces of snow still remaining, spring is also a popular time for skiing at Snowbowl.
The Snowbowl is also home to the only gondola in Arizona.
Also called Telemix, this lift combines eight-passenger gondolas, whipping you up 2,000 feet in just 7 minutes.
From the top, you will be treated to fantastic views of the valley below blanketed in snow.
From here, you can access the bowl area, glades, and all the intermediate runs.
Note that Weekends and powder days are generally crowded, and long queues for the lifts are standard.
You can also hike along the diamond trails in the Upper Bowl.
With 777 acres of skiable terrain, this is the destination in the state you should visit if you're serious about skiing in Arizona.
Considered by many to be the premier Arizona ski resort, its location at 11,500 feet makes for an epic ski experience since it boasts the best ski slopes in Arizona.
With five lifts serving 32 runs ranging from easy to complex, the Arizona Snowbowl is one of the most challenging ski areas in the West.
If you are a beginner or families with small children, head to the Hart Prairie Chair to enjoy a gentle slope with many wide-open spaces.
If you are a seasoned skier looking to up your game, head near the Humphreys Peak chair, the Grand Canyon Express or Sunset Chairs. 
After you've made it up and down, head to the beautiful outdoor patio area, The Hart Prairie Lodge patio to relax.
Have your favourite drink amidst new fire pits, in your perfect lounging spot, soaking up the sun.
If you are serious about learning skiing, Arizona Snowbowl has an excellent ski school and is a perfect place to learn. 
If you are over 13 years of age and new to skiing, Arizona Snowbowl has programs that will provide you with free or deeply discounted lessons. 
Open to both skiers and snowboarders, Snowbowl also boasts a Terrain Park with rails and spines.
There are two mountain day lodges nearby with restaurants and lounges.
Usually on the weekends, the area becomes more bustling as ski races happen and live music and DJs play the latest hits, making it a fun holiday getaway.
Opening Months – Mid-November to Late May
HOW TO GET THERE
The nearest airport is Flagstaff Pulliam Airport about 20 miles away. 
If you are flying to Phoenix(Phoenix Sky Harbor Intl. Airport), renting a car is the best option. 
It will take around 3 hours on Interstate 17 and you will be treated to stunning views. 
But note that the drive-up can be challenging on snowy days if you are driving. The road is filled with bends and steep, and chains are frequently required.
If you are driving from Sedona to Arizona Snowbowl, on Highway 89A up Oak Creek Canyon can be challenging on snowy days. 
This journey takes around 1.5 hours(longer if conditions are tricky).
FREE SHUTTLE
If you are visiting during January and February, on the weekends, a free shuttle runs from downtown Flagstaff every 20 minutes from two locations in town.
WHERE TO STAY?
If you want a closer stay, check out the base camp at Snowbowl, on the way up to the ski resort.
There are 18 cabins and six hotel-style rooms, Basecamp at Snowbowl is pet-friendly for a modest charge, and the on-site restaurant serves up hearty fare guaranteed to keep you going no matter how deep the snow.
VISIT THIS ARTS AND CULTURE SHOPPING VILLAGE
Located on the banks of beautiful Oak Creek, Tlaquepaque is a year-round top attraction in the city, but it is known for its signature event during Christmas in Sedona.
This 50+ years old tradition is anticipated by locals and tourists alike as Tlaquepaque transforms into an even more enchanting winter wonderland.
If you love admiring holiday lights, this is a must-to-do thing while visiting Arizona in December.
The Tlaquepaque arts and shopping district has been the central attraction during Christmas in Sedona as the area comes alive with over 6000 luminaries. 
These luminaries are icons for holidays in the Southwest, traditional paper-bag lanterns with candles set in sand. 
Check out the arts and crafts village with shops where you can taste hot chocolates and Christmas cookies and shop for antiques.
Planning to visit during Christmas? Check ths
The festivities begin after Thanksgiving, as the village basks in thousands of lights and kicks off the season with a Tree Lighting on Dec. 6. 
Once the tree lights up, the festivities will begin with a visit from Santa, live music and other entertainment.
The Tlaquepaque Arts & Craft Village is one of Sedona's most well-loved areas for its many boutiques and shops selling regional and hand-crafted goods. 
Listen to choirs, and get your kids to meet Santa after the parade.
Opening hours – 11 AM to 7 PM
HIKE TO THE GORGEOUS HAVASU FALLS
Among the top waterfall hikes in Arizona is Havasu Falls, the iconic landmark and the most popular Waterfall.
Although spring and fall are among the best seasons to visit, it is worth checking out while visiting Arizona in December as it is the shoulder month.
Havasu Falls is located in Havasupai Reservation, a remote area of the Grand Canyon National Park in Arizona, and one of the top things to do in Arizona in the winter.
It is known for its spectacular thunder and roar as it plunges amidst rocky canyons forming splendid blue-green pools below.
The challenge in getting here and the fantastic beauty of the falls make this a once-in-a-lifetime hike.
The magnificent colours of the falls are due to the dissolved calcium carbonate and magnesium, resulting in stunning turquoise blue water at Havasu Falls.
Due to its immense popularity, getting a permit to do this hike is more challenging than the trail itself, so you need to plan for this epic waterfall hike in Arizona.
Although Havasu Falls is the main highlight for those that hike into Havasu Canyon, the whole Canyon is full of waterfalls that you will encounter along the way, including the nearby 200-foot Mooney Falls, the cascading pools of Beaver Falls, Navajo Falls, and many other waterfalls waiting to be explored.
The Havasupai Trailhead is in the Hualapai Hilltop parking area.
Although it is just a short walk of over a mile from the Havasu Campgrounds, you have to hike a total of 11+ miles just to get to the campgrounds, and reservations require a minimum of 3 nights' stay. 
The trail starts at Hualapai Hilltop, at an elevation of about 5200 feet.
The trail drops 2,000 feet from here as you make your way through switchbacks down to the canyon floor, passing through narrow slot canyons, boulder crossings and hopping the rocks before reaching the village of Supai. 
From the campground, complete the last mile to check this off your bucket list and be truly rewarded by the glowing oasis in the desert.
Havasu Falls plunges from hundred feet canyons towering over the landscapes with a thunderous noise as it bounces off the tall red rock cliff faces. It is a sight to behold. 
The water is cold throughout the year. You can swim, relax and enjoy picnics after the challenging hike.
CHECK OUT THE NORTH POLE EXPERIENCE
If you are into fairytales and magical holiday experiences, this is one of the fun things to do in Arizona in December.
A Christmas Adventure of a Lifetime, the North Pole Experience is probably among the top Flagstaff Christmas events.
If you are traveling to Arizona in the winter with your children, I highly recommend adding this experience to your itinerary.
Named Trolley Launch Station, it is located on Hotel Little America's 500 acres of beautiful forest, decorated with more than a million Christmas lights, making it the perfect backdrop for this epic adventure.
Join your kids on a trolley ride through the magic portal to Santa's massive workshop in the middle of the forest. 
Once you arrive, you will attend a workshop with Santa!
Santa's Workshop is a complete, hands-on experience for children and parents. 
With the elves beside you, learn building toys and Santa's Workshop secrets at this 8500-square-foot workshop.
Take a tour of Santa's main factory floor, Santa's Toy Hall of Fame, attend Elf University and visit with Mrs Claus.
Head to Santa's Bakery for hot cocoa, snowman soup and cookies.
Don't forget Santa's mailroom and his top-secret "Area 47" Sleigh Hangar, featuring his famous sleigh, mission control centre, radar systems, and more. 
End this 2 hours long thrilling adventure with a private family visit with Santa himself.
Opening dates – November 12 – December 24 
GET INTO THE HOLIDAY SPIRITS AT GLENDALE GLITTERS
If you want more Christmas holiday lights in Arizona in December near Phoenix, head to Glendale for the famous Glendale Glitters Festival, just 20-minute drive away.
Glendale Glitters is known for its extravagant holiday block parties in the Southwest.
Glendale Glitters displays lights around Murphy Park in Historic downtown Glendale with a spectacular light display that will be illuminated each evening from 5 PM until 10 PM, as well as many festive and free holiday events. 
Watch the annual Hometown Christmas Parade held usually on the first Saturday of December packed with hundreds of floats, lights, displays, and more.
Each Friday and Saturday in December, local acts will take to the stage for free holiday performances. 
Bookworms like me should check out the fun LIBCON at the Velma Teague Library where you can meet comic book artists, cosplay groups, dozens of vendors, live performances, games, prizes and crafts for kids. 
Enjoy a free night out with the family, and taste the local delicacies at the food trucks. 
Spend the evening watching holiday classics and other movies.
Other celebrations include Winter Wonderland and Gingerbread Nights. 
Every Friday and Saturday night until Christmas, the city features fun activities, concerts, food, and horse-drawn carriage rides. 
PLAN A DAY TRIP TO ARIZONA NORDIC VILLAGE
If you want to go beyond resorts for skiing in Arizona, Arizona Nordic Village is one of the famous places loved by outdoor enthusiasts. 
It is one of the best things to do in Arizona in December.
Spending a night or two is the best way to experience a magical Flagstaff Christmas with your loved ones.
Located in the Coconino National Forest near Flagstaff, Arizona Nordic Village features over 40 miles of groomed cross-country ski and snowshoeing trails.
You can even stay overnight at the yurt village overlooking stunning views of the surrounding forest.
The Arizona Nordic Village, with 40 kilometres of trails, is best known for snowshoeing, cross-country skiing, and snow-biking.
Note that reservations for equipment rentals must be made by 3 PM three days before your visit.
Opening hours – 9 AM to 4 PM and 6 PM to 9 PM Fridays if conditions allow.
DRIVE THROUGH THE WORLD OF ILLUMINATION
World of Illumination is the most prominent animated light show in the world, featuring nearly 2 million lights synchronized to holiday music. 
If you only want to add watching one or two Christmas lights in Arizona on your holiday trip to Arizona in December, this should be at the top of your list!
On this 25-minute drive-through event, you will pass through many fun attractions, themed characters and holiday lights including snowmen and snow angels as you drive through the tunnel.
Every year, you will witness different themes at different places, including Diablo Stadium, Desert Diamond Casino in Glendale, and the theme parks in the Phoenix metro area.
Wrap your cosy blankets, grab your hot chocolate and roll the windows to soak in this holiday's spectacle.
HOP ON THE GRAND CANYON POLAR EXPRESS
Based on the adventures of the classic children's book The Polar Express by Chris Van Allsburg, the Grand Canyon Railway will take you on a journey to the North Pole.
Whether you are into fairytales or not, this is one of the epic experiences worth adding to your itinerary in Arizona in December.
Only 40 minutes drive away, it is one of the best Flagstaff Christmas things to do, especially if you are with kids.
Every winter the Grand Canyon Railway's Polar Express comes to life on a journey from the nighttime wilderness of Williams in Arizona, to the enchanted beauty of "the North Pole, Grand Canyon South Rim depot.
Here you will have Santa Claus and his reindeer waiting with a keepsake present. 
Enjoy hot chocolate and chocolate chip cookies while listening to this timeless story.
The ride lasts slightly over an hour, with the train leaving each night at 5:30 PM and 7:30 PM.
Tickets begin at $57 for adults and $38 for children if you book early, but worth getting on the trail for a unique family holiday spirit to enjoy a memorable winter holiday in the Grand Canyon. Find out more details to book here.
TOTAL ROUND-TRIP TIME: Approximately 90 minutes.
ADMIRE THE HOLIDAY LIGHTS AT THE RAILROAD PARK
One of my favourite Scottsdale Christmas events is the lighting at McCormick-Stillman Railroad Park.
This park is known for its Wild West-themed playgrounds and a train museum.
Primarily set up for children, the annual Holiday Lights display offers a fun experience for families and railroad lovers, worth checking out on your trip in Arizona in December.
The McCormick-Stillman Railroad Holiday Lights event features train rides through a wonderland of holiday lights and displays on the Paradise & Pacific Railroad to the North Pole.
It usually opens in December and includes a tree-lighting ceremony.
After soaking in the brilliant lights on the train ride, let your kids continue the fun on Christmas carousel rides on the Charros Carousel, playing on slides and climbing structures and the Old West-themed play area. 
Santa will also be at the park on Friday nights in December, along with live music and other entertainment.
Check out the model railroad displays at the museum in the train park. Drink hot cocoa from Hartley's General Store.
ADMIRE THE LUMINARIA NIGHTS AT THE BOTANICAL GARDEN
One of the top things to do in Phoenix, The Desert Botanical Garden is one of the iconic Arizona landmarks home to diverse, vast varieties of desert vegetation and distinct wildlife.
Arizona in December is extraordinary, and so is strolling in this fantastic rugged garden.
Because every holiday season in December, the venue hosts Las Noches de la Luminarias, a Southwestern-inspired tradition, creating a desert wonderland. 
Stroll in the garden amidst thousands of stunning luminarias and twinkling holiday lights lighting the paths, basking in the glow of lights.
Plus, musical performances, entertainment and holiday delights line the Garden's iconic trails.
You can also see sculptures adorning the landscapes, created by talented artists.
You can build an enchanted winter village at Webster Auditorium.
ENJOY SKIING AT MOUNT LEMMON SKI VALLEY
If you are looking for skiing in Arizona in December near Tucson, Mount Lemmon Ski Valley is the best.
Tucked up in Coronado National Forest in the Santa Catalina Mountains, the resort is only 25 miles north of Tucson AZ.
Mt. Lemmon Ski Valley is the southernmost ski resort in the USA. 
Sitting high above the valley floor at over 9,000 feet, amidst the towering pine trees of Coronado National Forest, the slopes of Mt. Lemmon Ski Valley are ideal for beginners and experts alike.
22 runs are spread across 200 acres, with three lifts, open from mid-December to April, providing ideal space for large groups of crowds.
There are many expert trails for seasoned skiers looking for adventure in Mt. Lemmon.
With an annual snowfall of over 200 inches and a 950-foot vertical drop, Mt Lemmon Ski Valley is also a great place to learn skiing. 
The runs are gentle, and the lessons are cheap.
In addition to the main double chairlift, another smaller double chairlift and a surface tow are available as the base area for the bunny slopes.
There is no snow tubing here unlike the other places. 
After having fun, head to the Grub Stake Grill patio at the famous Iron Door Restaurant, to enjoy stunning views of snow-capped peaks above and the sandy desert below.
Opening hours – Mt. Lemmon Ski Valley is open daily from 9 AM to 4 PM.
Passes are $69 for adults and $39 for children with special discounts for seniors. Note that you must buy tokens in person as online tickets are unavailable.
HOW TO REACH
Tucson International Airport is the closest airport about 1.5 hours away.
It is best to drive to Mount Lemmon's Ski Valley along the windy roads through the Coronado National Forest from Tucson.
On the way up the Mount Lemmon Highway or Catalina Highway or Sky Island Scenic Byway, you'll see the dramatic shift in the landscapes as the saguaro-studded Sonoran desert makes way to grasslands, junipers and oaks, pines, and finally leading to gorgeous conifer forests at over 9000 feet.
Check road conditions before planning your trip as heavy snowfall causes disruptions.
HIKE IN SAGUARO NATIONAL PARK
Under 2 hours drive from Phoenix, Saguaro National Park is one of the best places to experience Arizona in December.
Saguaro National Park, surrounding the western and eastern edges of Tucson, Arizona's second-largest city, is the ideal place to hike in the rare desert snow. 
Saguaro National Park is home to vast forests of saguaro cacti, including America's tallest and most iconic cactus species. 
The majestic saguaro recognized worldwide as a symbol of the desert and an iconic image of the American Southwest, only appears naturally in the Sonoran Desert—which stretches across the southwestern United States on either side of Tucson.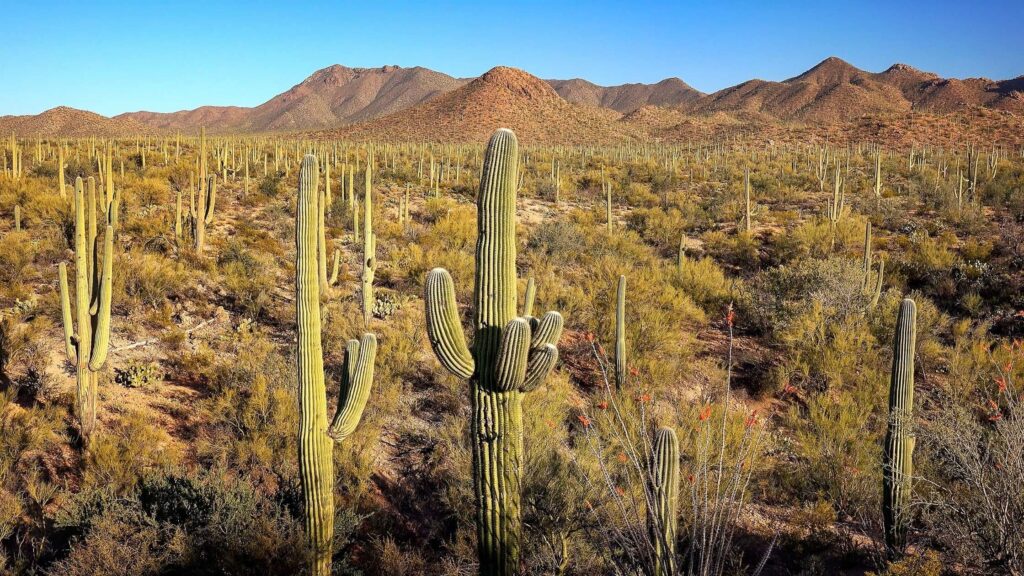 It is not often that you see giant green cacti sprinkled with snow on the ground with ocotillo, cholla, and prickly pear cacti blanketed in white. 
Plan a trip to this beautiful national park in January for the best outdoor explorations, where you will encounter massive saguaros towering up to 50 feet high and many older than a hundred years.
The park, spanning a massive 143 square miles, is divided into two sections.
One is on either side of Tucson, named the Rincon Mountain District east of Tucson and the Tucson Mountain Unit west of Tucson, covering over 54000 acres.
Many short hiking trails are ideal for beginners to explore the national park, including the unpaved Bajada Loop Drive driveway.
The Rincon Mountain District, on the east side, is more remote and includes a large mountainous region with summits over 8,000 feet.
Rincon Mountain also features the park's famous Cactus Forest Loop drive and offers stunning sunset and sunrise views.
There are many trails in the park of different difficulty levels for hiking and biking, which will take you across its dazzling and dramatic landscapes.
Although Saguaro National Park is a hiker's paradise all year round, avoid the midday sun in the summer.
One of the most popular times to visit Saguaro National Park is late spring into early summer, the time of saguaro blooms with giant waxy white flowers, also an Arizona state symbol.
Hike the Hope Camp and Ridgeview Trails in spring for colourful wildflower displays and beautiful views.
Other Saguaro National Park attractions include Native American rock art and a 19th-century homestead. Check out the visitor centre for plant and animal exhibits. 
The national park is home to roadrunners, coyotes, Gila monsters, and many types of snakes, which you should watch out for while hiking.
HOW TO REACH?
Saguaro National Park is less than half an hour from Tucson International Airport.
GO ON A PINK JEEP TOUR
Hop aboard a Jeep and prepare to take in the stunning views of the 1,500 ft towering cliffs of Oak Creek Canyon and its gorgeous natural panoramas.
One of the best adventurous things to do in Sedona in winter, you can admire views of the Colorado Plateau by climbing 2,000 ft along its south rim on one of these Pink Jeep tours.
Here are some of my recommendations for the best Jeep tours to enjoy Sedona sunrise:
Sedona Outback Trail Jeep Adventure – A top-rated 2-hour tour; check out more details here.
Sedona Vortex Tour by Jeep – A fantastic tour also cover Vortex. Find out more here.
Private Gambler Trail: Rugged 4×4 Hummer Tour in Sedona – Recommended if you are looking for a private tour. Check details here.
You can also rent a Polaris RZR 4-Seat for an entire day – I highly recommend this if you are in a group or a family. Saves money and time. Find more details h
EXPLORE PETRIFIED FOREST NATIONAL PARK
Among the beautiful Arizona National Parks that draw visitors due to their magical landscapes is Petrified National Forest.
If you are a nature lover or an outdoor enthusiast, I highly recommend adding this stunning forest to your itinerary of Arizona in December.
Located less than 4 hours northeast of Phoenix in eastern Arizona, near the New Mexico border, this is one of America's most underrated national parks.
This beautiful national park has been protected since 1906 and is heaven for exploring one of the most ancient landscapes in the world.
Petrified Forest National Park is known for its fossils and is a paradise for palaeontologists, historians and archaeologists, for it is home to vast acres of landscapes encompassing 225-million-years-old fossilized trees from the Late Triassic period, which was the dawn of the dinosaurs. 
You can hike on the lands where dinosaurs roamed and stand where ancient forests fell.
These ancient tree trunks are spectacular and have survived thanks to the minerals they absorbed after submerging in a riverbed nearly 200 million years ago.
RECOMMENDED FOR YOU – 10 BEST SPOTS FOR WATCHING EPIC SUNRISE IN SEDONA
These wooden logs have transformed into solid, sparkling quartz, including citrine, amethyst, and jasper.
This mineral-tinted landscape basks in colours in the sunlight, offering fantastic panoramic views.
Petrified National Forest is home to painted deserts, striated canyons, fossils of ancient creatures, and even dinosaurs. 
Check out the Crystal Forest and Long Logs Trails if you love hiking trails.
The red-coloured badlands, the blue-banded rock formations, Blue Mesa, and Puerco Pueblo are iconic landmarks in the forest explored on hikes and mountain biking.
Historic Route 66 and Native American sites are other attractions comprising Petrified Forest National Park.
Jasper Forest Trail is among the popular longer hiking trails known for its gorgeous views.
Check out the Painted Desert Visitor Center and Rainbow Forest Museum, where you can learn about the area's impressive history, geology, and nature.
VISIT PHOENIX ZOO
ZooLights is one of the biggest holiday light displays in the Southwest. 
And your Phoenix in winter trip is incomplete without witnessing this spectacular event.
Approximately two-and-a-half million twinkling lights turn Phoenix Zoo into a magical winter wonderland.
Enjoy hot chocolate, apple cider, and munch on holiday snacks available at kiosks throughout the zoo amidst revelling in the festivities.
A yearly tradition for the entire family, the ZooLights at Phoenix Zoo gets decked up with animal lanterns, and all sorts of quirky, creative displays.
Stroll through the park and head to listen to live music, and light show, and a nightly snowfall. 
In addition to the lighting, there are many special events and activities planned every year catering to kids, from elves to Dinosaurs and more.
And the best part is you can enjoy ZooLights by walking or driving through, depending on the night, so check the calendar.
The Phoenix Zoo is still very much worth the visit besides December. 
It is one of the fun things to do in Phoenix in winter with kids as the largest privately-owned zoo in the USA is home to dozens of animals, rich exhibits and collections to learn about the animal world.
You can purchase tickets on the day at the zoo or, you can buy them online in advance here.
CHIRICAHUA NATIONAL MONUMENT
One of the most popular day trips from Tucson, the Chiricahua National Monument is one of the best Arizona National Monuments known for its unique geological natural wonders, abundant wildlife and rugged landscapes.
Located in the Chiricahua Mountains of southeastern Arizona, the monument was established in 1924 and is home to stunning volcanic rocks that form pinnacles, hoodoos and narrow canyons, unusual plant species, unique wildlife, beautiful drives and paved hiking trails.
If you love rocks, Chiricahua is your kind of place, and it is one of the best things to do in Arizona in the winter as the weather is perfect.
The large park spread over 12,025 acres of wilderness, with its two unofficial names, the Wonderland of Rocks and the Land of Standing Up Rocks, tell you why it's one of Arizona's most popular hiking destinations. 
Twenty-seven million years ago, ash from the volcanic eruption nearby Turkey Creek compacted into rock, creating a thick layer of rhyolite.
They got eroded and fissured, shaped and sculpted over the millennia by the wind and rain, forming fascinating rock formations into towering rock needles, with their stunning hoodoos making for spectacular sights.
These precariously balanced rock towers have colourful names today, like Grottoes, Wall Street, and Big Balanced Rock, accessed via many hiking trails and drives.
You can also find many excellent pinnacles and natural bridges beside balancing boulders and rugged volcanic rocks.
RECOMMENDED – TOP 10 SUNSET SPOTS IN SEDONA YOU SHOULD NOT MISS
Once a haven for the Chiricahua Apaches, the monument is today's paradise for hikers, outdoor lovers, adventure seekers and photographers. 
Its location and limited access mean that only a few people visit, so if you want to camp under the stars with fewer or no crowds, you will love your trip to Chiricahua.
The park, home to many wildlife and plant species only found in this monument, has 17 miles of hiking trails and an 8-mile paved scenic drive.
Drive through the national monument at a 6,500-ft high Massai Point, overlooking the gorgeous pinnacles, wildlife, plant species and rare cacti.
Popular hiking trails include Echo Canyon, the Upper and Lower Rhyolite canyons, and the Heart of Rocks Loop.
The 3.3-mile Echo Canyon Loop trail is more straightforward and can be done in a few hours, taking you to the heart of the rock formations, including Wallstreet, the Grottoes, and Echo Park. 
If you are game for an adventurous and challenging hike, the 9.5-mile Big Loop covers all the main attractions, including the Echo Canyon, Upper Rhyolite Canyon, Sarah Deming, Heart of Rocks, Big Balanced Rock, Inspiration Point, and Ed Riggs trails.
If birdwatching or wildlife viewing interests you, get on the Bonita Creek Trail to spot deer, coatimundis, and migrating birds.
If you'd like to spend more time here, camping is one of the best options to explore more of Chiricahua National Monument and enjoy stunning stargazing. 
There is a campground with 25 sites and a group site surrounded by beautiful landscapes.
Visit Faraway Ranch Historic District on the east side of the park to join their weekend tours to learn about the pioneer life in this brutal landscape. 
The park is open year-round, and summer is bearable, although not the best time to be here. There is occasional snow in the winter. 
EXPLORE DESERT BOTANICAL GARDENS
One of the top things to do in Phoenix in winter is to visit the incredible Desert Botanical Gardens in Papago Park.
This 140-acre (57-hectare) botanical garden is home to many walking trails that will take you through a stunning collection of exquisite desert flora and fauna.
Every holiday season in December, the venue hosts Las Noches de la Luminarias, a Southwestern-inspired tradition, creating a desert wonderland. 
Stroll in the garden amidst thousands of stunning luminarias and twinkling holiday lights lighting the paths, basking in the glow of lights.
Plus, musical performances, entertainment and holiday delights line the Garden's iconic trails.
You can also see sculptures adorning the landscapes, created by talented artists.
You can build an enchanted winter village at Webster Auditorium.
You can purchase tickets online through their website.
CHECK OUT CANYON DE CHELLY NATIONAL MONUMENT
If you drive north of Interstate 40 towards Canyon de Chelly and continue passing through the lonely lands up South Rim Drive, you will arrive at Canyon de Chelly National Monument, one of the spectacular landmarks ideal for exploring while visiting Arizona in the winter.
Located in northeast Arizona and part of the Navajo Nation, Canyon de Chelly National Monument encompasses magnificent red sandstone canyons created by Chinle Creek and its tributaries and ancient cliff dwellings high up in the walls along the ledges of the cliffs.
Canyon de Chelly National Monument in northern Arizona near the New Mexico border was established in the 1930s to conserve vulnerable archaeological sites and artefacts.
Although administered by the National Park Service (NPS), it is located entirely within the Navajo tribal homeland. 
Carved into the sandstone bedrock of north-eastern Arizona, near Chinle, the three spectacular canyons, De Chelly, Del Muerto, and Monument, lie at the centre of the Navajo Nation and the heart of many native legends.
There are over 800 ancient archaeological sites between Monument Canyon, Canyon de Chelly, and Canyon del Muerto. 
These canyons have been occupied by Indigenous peoples for 5,000 years uninterrupted, more continuously than anywhere in North America; 
Before them, the sites were home to the Ancestral Puebloans, Anasazi, Hopi and Navajo around 2,500 BCE, as indicated by the remains of prehistoric petroglyphs and age-old edifices.
Forty families still live within the park's boundaries even today. 
Since the Navajo still call Canyon De Chelly their home and a sacred site, you can only explore the monument on a guided Navajo tour with a native or National Park Service ranger.
Two panoramic drives run along the north and south rims of the canyon and have many overlooks.
You can opt for self-guided driving tours and stop at lookouts to cover many of the site's attractions, including Mummy Cave, carved into the sheer cliff, and Antelope House, standing at the base of the canyon walls. 
Don't miss the fabulous, towering tall spire of Spider Rock, an iconic sandstone spire that towers 230m above the canyon floor and, in Navajo legend, is the home of Spider Woman.
To see more, you'll need to hire a native guide to escort you on either foot, 4×4 or horseback.
Half-day tours traverse the rough river bottom and are best to experience ancient ruins, caves, and petroglyphs up close. 
If you don't have time for a tour and are up for a relatively challenging hike, do the only self-guided walk, the 3-mile White House Trail, going 600 feet down into the canyon to arrive at the spectacular White House ruins.
The trail begins six miles east of the visitor centre along South Rim Drive. 
In the 1800s, this canyon was the site of many massacres of Native Americans by the Spanish and US Armies.
Head to the Cottonwood campsite for tent and RV camping. 
You need to book guided tours in advance at the visitor centre. The park is open year-round, but access may be limited in the winter due to snow.
WATCH THE BOAT PARADE ON TEMPE LAKE
Tempe Beach Park, one of the best lakes near Phoenix, attracts hundreds of visitors annually.
Home to the Fantasy of Lights Annual Festival, the lake transforms into a magical place for the glittering boat parade.
It is one of the unique Christmas lights in Arizona.
Held on Thanksgiving day(it is scheduled in Arizona you should check for December in 2023) on Mill Avenue, watch the dazzling display of over 40 floats, balloons, clowns, marching bands, and an appearance by Santa Claus himself. 
Stay for the lighting of the giant decorated Christmas tree by Santa
WALNUT CANYON NATIONAL MONUMENT
If you are looking for fantastic day trips from Flagstaff that you can easily access, head to Walnut Canyon National Monument, located east of the city.
It is one of the famous Arizona National Monuments known for its historic ancient cliff dwellings and many fabulous hiking trails, offering plenty of outdoor activities for adventure seekers.
A 600-foot-deep gorge is home to more than 300 gorgeous Sinagua Indian cliff dwelling ruins from 1120 AD. 
These fascinating multi-room dwellings in protected alcoves high in the canyon walls are well-preserved examples of their marvellous engineering and architectural skills.
The site was abandoned, possibly due to drought or tribal warfare.
Walnut Canyon National Monument was established in 1915 to help protect the sites and conserve the cliff dwellings.
Walnut Canyon is known for its distinct and beautiful white Kaibab limestone formations, amidst which you will find many of these fantastic cliff dwellings, which were former family homes overhanging on the ledges of the canyons.
These single-family dwellings are visible from the Visitor Center, and hiking is the best way to experience the cliff dwellings at Walnut Canyon National Monument.
The Island Trail, a one-mile trail, beginning at the visitor centre, descending 185 feet into the canyon and comprising over 700 stairs, winds its way past 25 ancient dwellings.
From the foot of the stairs, follow the trail to one of the simple pueblos and step inside.
You will see the fantastic windows and doors of ancient dwellings tucked between uneven rock layers, examples of simple yet brilliant masonry skills.
Look down to see the beautiful Walnut Creek, the water source for the residents, flowing to the east to join the Colorado River, which eventually flows through the Grand Canyon.
If you want a more accessible trail, the Rim Trail, a 0.7-mile round-trip flat trail, which passes by a partially rebuilt pueblo and a pit house, offers excellent views of the canyon and the ancient dwellings on the far side. 
Although the park is open year-round, it snows and gets colder in the winter.
Check out the museum on the premises to learn about the pre-Columbian culture and the Sinagua people.
There are no camping or lodging facilities within the park, but camping is available in the surrounding Kaibab and Coconino national forests.
FUN THINGS TO DO IN ARIZONA IN DECEMBER
CHRISTMAS AT THE FAIRMONT SCOTTSDALE PRINCESS
If you are looking for a resort-style holiday, head to The Fairmont Scottsdale Princess, one of the best destinations for Scottsdale Christmas.
The Fairmont's Christmas at the Princess begins annually in mid-November and continues through the Christmas holiday.
The famous 6,000-square-foot ice skating rink, made with natural ice, offers a traditional winter experience surrounded by giant saguaros and other plants of the desert.
During the day, you can enjoy the sunshine at the Princess by lounging by the pool or playing golf on the adjacent course. 
A row of brightly lit palm trees welcomes you to this colourful resort that hosts many fun activities and events every Christmas attracting thousands of locals and tourists.
The beautifully landscaped grounds of the Princess are decorated with over four million holiday lights.
You'll love the brightly-lit trees, train rides, Ferris wheel, and roasting s'mores over a fire pit.
Funny characters come alive, which the kids love, ranging from a fishing Santa to the Grinch in its many ponds.
In the Princess Plaza, a gigantic, carol-singing Christmas tree towers in its outdoor courtyards, with the four-story tree decorated with over 65,000 LED lights!
Check with the resort for the annual schedule and admission price.
ENJOY CHRISTMAS LIGHTS AT SALT RIVER FIELDS
Another drive-through holiday lights display is Enchant at Salt River Fields.
This drive-through light show features a 1.2-mile stretch of dynamic, festive lights twinkling to holiday tunes. 
While driving the light route, listen to holiday songs in your own car on a designated radio channel. 
For a fairytale experience, rent an open holiday carriage to escort you through the light show.
You will arrive at the Santa Village where you can watch a dazzling display of lights at the Holiday Light Theater.
Here, you can also shop for local handmade crafts besides munching on holiday snacks and drinks.
WITNESS SCOTTSDAZZLE HOLIDAY EXTRAVAGANZA
One of the iconic Scottsdale Christmas events loved by the locals and tourists is the annual Scottsdazzle, celebrated by the City of Scottsdale.
Scottsdazzle is a month-long grand holiday celebration starting with a tree-lighting ceremony on Thanksgiving and ending on New Year's Eve in Old Town Scottsdale.
Witness the Sing-Along & Tree Lighting Ceremony at the Scottsdale Waterfront on the Saturday after Thanksgiving. 
The city's unique Christmas tree, imported from Italy, is decorated with over one million lights, a spectacle on the Soleri Bridge. 
You can buy tickets for special events in Downtown Scottsdale, from wine-tasting to bourbon-tasting events, canal concerts, and painting parties.
Art lovers should check out the public art installations by talented local artists at the holiday-themed Gold Palette ArtWalk. 
Check out a live nativity scene reenactment at the Old Adobe Mission in Old Town Scottsdale.
Kids can meet Santa while you enjoy shopping at the festive farmer's market for local specialities, and taste hot cocoa, coffee, and seasonal treats.
ENJOY STARGAZING IN SEDONA
If you are like me and love gazing at the stars, you will love it here at night as the clear weather in Sedona in December at night means sparkling stars above you everywhere.
Bundle up and enjoy stargazing in Sedona at night, one of the fun romantic things to do.
Sedona is one of only twenty certified Dark Sky Communities in the world, and make the best use of your time by picnicking under the stars or driving to the best viewpoints around the city.
For a fantastic night, I highly recommend this Night time UFO & Stargazing Tour where you will hear mysterious stories of hovering objects above!
But wear layers as the temperatures are chilly, and check for storms
CATCH THE SUNSET OR SUNRISE
A winter sun may not be your ideal choice for golden sunrise or sunsets, but Arizona in December does offer spectacular sunsets, especially in warm places like Phoenix or Tucson.
If the weather permits, watching a glorious sunrise in Sedona is one of the best things to experience when you plan a trip to this desert town.
Packed with gorgeous geological wonders, including vortexes and red rocks, you have plenty of spots to watch the golden, bright orange and yellow sunshine colours transform the panoramas into beautiful scapes.
In addition to Sedona Sunsets, add watching the sunrise to your itinerary, especially if you love early mornings.
The distinct landmarks make these early dawn hours special, surreal views you will remember for a long time.
No wonder photographers from all around the world flock to capture the phenomenal spectacle every day.
Also, if you are visiting Sedona in winter, especially in December, the sun sets at around 5:30 PM so you can easily add a drive to watch the setting sun amidst gorgeous landscapes.
TOUR THE WINERIES NEAR SEDONA
Your trip to Sedona is incomplete without visiting the best Sedona wineries, whether you are a fan of wine specialities or the rich rolling vineyards. 
Thanks to its excellent location in the flourishing Verde Valley Wine Region, Sedona is one of Arizona's most famous wine destinations. 
If you love wine, I highly recommend adding this to your itinerary of Arizona in December.
You can taste local at the charming tasting rooms in downtown Sedona, drive through the canyons and spectacular Verde Valley wine country, or book Sedona wine tours to discover the hidden gems along the Verde Valley Wine Trail.
A Sedona wine experience can also be a romantic getaway, a fabulous destination for girls' weekends, and bachelor/bachelorette parties.
No matter how you do, you will love the lush, thriving vineyards, tranquil tasting rooms and a community of wine connoisseurs keeping Arizona's wine history rich.
The first Verde Valley vineyards date back to the 17th century. 
The earlier members of the Franciscan missionaries started harvesting grapes as they discovered the beautiful high-altitude oasis, perfect for syrahs, merlots, and chardonnays, thanks to the abundant sunshine, rich soil, and the flourishing Oak Creek and Verde River.
Today the valley is famous for its award-winning wineries and tasting rooms, popularly called the Verde Valley Wine Trail. 
If you are looking for the top Sedona wineries, you will be spoilt for choice, as there are over 30 vineyards and tasting rooms within 25 miles of the city.
Check this list for 15 Best wineries in Sedona Worth Visiting For a Fabulous Day Trip
MESA TEMPLE CHRISTMAS LIGHTS
One of the must-see holiday lighting extravaganzas in the United States, the Mesa temple is home to the best Christmas lights in Arizona.
Hundreds of thousands of visitors explore Mesa between Thanksgiving and New Year on these temple grounds, run by a large group of volunteers.
This event, continuously celebrating Christmas spirits for over 40 years, also showcases a nativity display, live music from local musicians, including carols, adding the traditional touch.
TAKE A HOT AIR BALLOON RIDE
One of the most popular tours loved by visitors and locals alike is the hot air balloon ride over Sedona in December, where you can tower above the red rocks, and mesas, and soak in blissful views of Red Rock County.
It is undoubtedly a romantic idea to experience Sedona in winter. 
I highly recommend taking the tour in the morning to watch the stunning sunrise.
As the balloon starts to rise from the ground, you get to see one of the most beautiful sunrises from above, colouring the landscapes in vivid colors.
Here are some of the high-rated tours I recommend.
ENJOY ICE SKATING
No matter how old you are, one of the most loved things about winter is Ice skating, especially when it is holiday time.
A big draw in Phoenix in winter is the many open areas for visitors, some of them among the best outdoor ice skating spots in Arizona.
CitySkate in Downtown is one of the most popular, real outdoor ice-skating and a favourite spot among both locals and tourists.
After Thanksgiving until mid-December/January, enjoy skating under the stars with your kids until midnight at the CityScape Center in Phoenix.
Organized by the City of Sedona Parks and Recreation department, you can enjoy 30 minutes of fun skating on a first come, first served basis. 
Each session lasts for 90 minutes, and entry starts at $20 per person(with various discounts available)
Avail $5 off if you bring your own skates. It gets crowded often, so get here early.
Plus, if you are here during the weekend, you can meet Santa Claus in the afternoon.
Opening hours – 4 PM to 11:30 PM
MORE COOL THINGS TO DO IN ARIZONA IN DECEMBER WITH YOUR KIDS
TRY SLEDDING WITH YOUR KIDS
Whether you want sledding in Arizona for winter fun or a family adventure, you are in the right place.
Not many know that it does snow in Arizona, in some parts of Northern and Eastern Arizona, transforming into a winter wonderland. 
It is a treat to the eyes as the alpine and conifer trees get blanketed by fresh snow, one of the best experiences in Arizona in December.
As someone who enjoys all sorts of winter sports, sledding in Arizona has been fun for me. 
If you are like me, looking for fun in the snow at Arizona sledding places, I have covered the details in this post.
If you are into skiing, check out this guide to Arizona skiing resorts.
7 Best Places For Sledding In Flagstaff
TAKE A HELICOPTER TOUR
Want to enjoy bird views of beautiful Arizona?
Take this helicopter tour to admire the stunning landscapes of Arizona from above, as you fly over Sedona's famous red rock formations, including cliff dwellings, mesas and buttes.
Unlike hot air balloon rides, helicopter rides are fast and quick but cover more ground.
When booking a helicopter in December, make sure to join in the morning to see many vibrant colours.
I highly recommend adding this 2-hours tour to your trip to Arizona in December for fantastic aerial views stretching far across the Sonoran Desert.
GO ON ONE OF THE SCENIC DRIVES
One of the best ways to enjoy Arizona in December if you are adding Sedona to your itinerary is by driving through the scenic routes.
There are many beautiful scenic drives near Sedona offering you the fantastic outdoors of this region, home to powerful vortexes, stunning Arizona slot canyons, hot springs, rugged views of the tremendous red-rocks landscapes, beautiful creeks amidst juniper and oaks.
These routes range between 30 minutes to a few hours, so depending on your preferences, pick one of these routes for a fabulous time on the road.
The Red Rock Scenic Byway is one of these enticing, 30-minute long road trips as you will be treated to 7.5 miles of stunning scenery featuring red rock formations and plenty of lookout points and ending up in Oak Creek.
EXPLORE THE STUNNING KARTCHNER CAVERNS
If you love exploring outdoors on your trip to Arizona in December, just an hour east of Tucson lies Kartchner Caverns State Park.
The caverns, north of San Pedro River, are home to some of the world's most fascinating and unique limestone formations, including stalactites and stalagmites spanning 2.4 miles of passages.
Take a guided tour through these caves to explore the distinct landscapes, including various wildlife, such as bats, owls, and ringtails. 
Birdwatching is also a popular activity, and if you are up for it, I highly recommend checking out the caves at night and camping under the starry skies here!
VISIT THE MUSICAL INSTRUMENT MUSEUMS
One of the best year-round things to do in Phoenix is its incredible museums, and winter is no different from exploring at least a few of them.
If you have time only to visit one museum, check out the Musical Instrument Museum, ranked among the top museums in the United States.
The largest museum in the world dedicated to musical instruments, you can check out over 15,000 musical instruments from almost 200 countries!
December is the best time to visit Musical Instrument Museums, as many holiday classics are performed on the premises by talented local artists.
THINGS TO DO IN ARIZONA IN DECEMBER MAP
Latest posts by Veronica Samuels
(see all)