If you love cold winters, Sedona in January is a fantastic time to be. Most of the attractions remain open, and temperatures are ideal for hiking and other outdoor activities.
There are many fun things to do in Sedona in January, with something in store for everyone.
Having spent many weeks during January in Sedona, I thought of sharing practical tips about clothing, attractions, weather and more in this guide.
Read on to plan your Sedona winter trip.
WHAT WEATHER TO EXPECT IN SEDONA IN JANUARY?
The weather in Sedona in January is usually cold with a gentle breeze. It feels a lot colder than fall months and days are shorter.
During January, the average high temperature in Sedona is 55°F (13°C), and as the day turns into night, the temperatures get significantly colder at night, with freezing degrees at night. 
The weather is perfect for hiking and driving around.
Thanks to its higher elevation, winter in January in Sedona feels pleasant, with warm afternoons on days when there are no storms.
There are high chances of snowfall in Sedona in January and even rainy days. So if you want to experience the magical snow in and around Sedona, January is one of the best months to visit.
DOES IT SNOW IN SEDONA IN JANUARY?
Yes, it does snow in Sedona in January, but not as much as you can see in Flagstaff.
You will be treated intermittent thin layers of snow enveloping the places everywhere around the town, including the majestic red rock mountains.
FUN THINGS TO DO IN SEDONA IN JANUARY
TAKE A HELICOPTER TOUR
Want to enjoy birdviews of beautiful Arizona? Take this helicopter tour to admire the stunning landscapes of Arizona from above, as you fly over Sedona's famous red rock formations, including cliff dwellings, mesas and buttes.
Unlike hot air balloon rides, helicopter rides are fast and quick but cover more ground.
When booking a helicopter in December, make sure to join in the morning to see many vibrant colours.
I highly recommend adding this 2-hours tour to your trip to Sedona in winter for fantastic aerial views stretching far across the Sonoran Desert.
GO ON ONE OF THE SCENIC DRIVES
One of the best ways to enjoy Sedona in January is by driving through the scenic routes.
There are many beautiful scenic drives near Sedona offering you the fantastic outdoors of this region, home to powerful vortexes, stunning Arizona slot canyons, hot springs, rugged views of the tremendous red-rocks landscapes, beautiful creeks amidst juniper and oaks.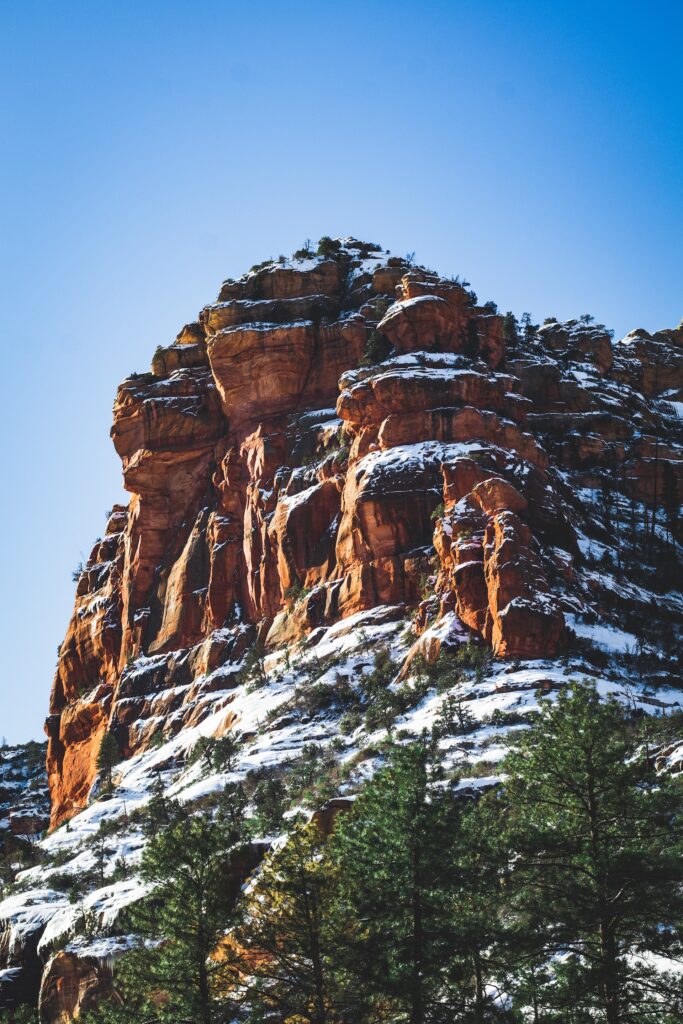 These routes range between 30 minutes to a few hours, so depending on your preferences, pick one of these routes for a fabulous time on the road.
The Red Rock Scenic Byway is one of these enticing, 30-minute long road trips as you will be treated to 7.5 miles of stunning scenery featuring red rock formations and plenty of lookout points and ending up in Oak Creek.
VISIT THE CHAPEL OF THE HOLY CROSS
One of the top attractions worth visiting in Sedona in January is the Chapel of the Holy Cross.
This Roman Catholic chapel was built from 1954 to 1956 in the red rock buttes of Sedona, Arizona, within the Coconino National Forest.
It is known for its brilliant architecture and engineering accomplishments in constructing the buttes, with windows framing buttes and rock outcroppings.
ENJOY STARGAZING IN SEDONA
If you are like me and love gazing at the stars, you will love it here at night as the clear weather in Sedona in January at night means sparkling stars above you everywhere.
Bundle up and enjoy stargazing in Sedona at night, one of the fun romantic things to do.
Sedona is one of only twenty certified Dark Sky Communities in the world, and make the best use of your time by picnicking under the stars or driving to the best viewpoints around the city.
For a fantastic night, I highly recommend this Night time UFO & Stargazing Tour where you will hear mysterious stories of hovering objects above!
But wear layers as the temperatures are chilly, and check for storms.
CATCH THE SUNSET OR SUNRISE
Watching a glorious sunrise in Sedona is one of the best things to experience when you plan a trip to this desert town.
Packed with gorgeous geological wonders, including vortexes and red rocks, you have plenty of spots to watch the golden, bright orange and yellow sunshine colours transform the panoramas into beautiful scapes.
In addition to Sedona Sunsets, add watching the sunrise to your itinerary, especially if you love early mornings.
The distinct landmarks make these early dawn hours special, surreal views you will remember for a long time.
No wonder photographers from all around the world flock to capture the phenomenal spectacle every day.
Also, if you are visiting Sedona in winter, especially in December, the sun sets at around 5:30 PM so you can easily add a drive to watch the setting sun amidst gorgeous landscapes.
VISIT THE HERITAGE MUSEUM
One of the top places to get glimpses of the city's history is the Sedona Heritage Museum, where you can explore the rich heritage of the Sedona area. 
Although you can visit the museum any time of the year, add it to your itinerary of Sedona in winter amidst a gorgeous apple orchard.
Check out unique collections of artefacts from the 8th century to learn about the histories of arts, heritage, wines, and orchards.
In December, the Sedona Heritage Museum has an annual holiday called Christmas In The Park, where you can enjoy hot apple cider, holiday cookies, and free entertainment and activities.
TOUR THE WINERIES NEAR SEDONA
Your trip to Sedona is incomplete without visiting the best Sedona wineries, whether you are a fan of wine specialities or the rich rolling vineyards. 
Thanks to its excellent location in the flourishing Verde Valley Wine Region, Sedona is one of Arizona's most famous wine destinations. 
You can taste local at the charming tasting rooms in downtown Sedona, drive through the canyons and spectacular Verde Valley wine country, or book Sedona wine tours to discover the hidden gems along the Verde Valley Wine Trail.
A Sedona wine experience can also be a romantic getaway, a fabulous destination for girls' weekends, and bachelor/bachelorette parties.
No matter how you do, you will love the lush, thriving vineyards, tranquil tasting rooms and a community of wine connoisseurs keeping Arizona's wine history rich.
The first Verde Valley vineyards date back to the 17th century. 
The earlier members of the Franciscan missionaries started harvesting grapes as they discovered the beautiful high-altitude oasis, perfect for syrahs, merlots, and chardonnays, thanks to the abundant sunshine, rich soil, and the flourishing Oak Creek and Verde River.
Today the valley is famous for its award-winning wineries and tasting rooms, popularly called the Verde Valley Wine Trail. 
If you are looking for the top Sedona wineries, you will be spoilt for choice, as there are over 30 vineyards and tasting rooms within 25 miles of the city.
Check this list for 15 Best wineries in Sedona Worth Visiting For a Fabulous Day Trip
TAKE A HOT AIR BALLOON RIDE
One of the most popular tours loved by visitors and locals alike is the hot air balloon ride over Sedona in January, where you can tower above the red rocks, and mesas, and soak in blissful views of Red Rock County.
It is undoubtedly a romantic idea to experience Sedona in winter. 
I highly recommend taking the tour in the morning to watch the stunning sunrise.
As the balloon starts to rise from the ground, you get to see one of the most beautiful sunrises from above, colouring the landscapes in vivid colors.
Here are some of the high-rated tours I recommend.
VISIT CATHEDRAL ROCK
Hiking to Cathedral Rock is an essential experience while visiting Sedona in January. 
Cathedral Rock is a natural sandstone butte that is one of the most photographed places in Arizona.
Cathedral Rock Sunrise is one of the best in Arizona, and it is no surprise, given the gorgeous views you will encounter.
One of the best things about choosing this spot for watching a sunrise in Sedona from this place is that you will witness beautiful panoramas throughout your hike, not just at the Cathedral Rock itself.
Although it is a challenging hike, you will pass through many beautiful points where you can rest and enjoy the views. 
You will arrive at the base of the rock in about some time, opening to stunning views. 
You can continue climbing further after you have admired the views here. 
To the left of the viewpoint, there is another smaller trail leading upwards to the Cathedral spire, which feels slightly more challenging than the journey so far, but soon you will notice that it's only the rocks.
Recommended – A Complete Guide To Hiking The Cathedral Rock, Sedona
On your way down, be cautious and take care of your steps as they can get slippery. 
If you do both hikes, it may take about 2 hours and a little more time if you include the time to watch the sunrise and photograph the same.
HIKE THIS VORTEX
Sedona has long been regarded as a place both sacred and powerful, and people come from around the world to meditate and experience the mysterious cosmic forces within the area.
These vortexes or powerful energy fields, are used for healing, meditation, accessing psychic abilities, and spiritual and self-exploration.
One of the popular vortexes in Sedona is Bell Rock, one of the first red rock formations that you will notice in the city.
Due to its more accessible trail and gorgeous formations, the Bell Rock Loop Trail is a popular spot among locals and visitors.
Although it is a short trail, the uphill climbing will make it a 30-minute journey to get to the base section of Bell Rock from the parking area.
A vast viewing platform offers splendid views of the sunrise in Sedona. 
For more adventure, you can climb further to reach the upper portions of the rock. 
Also, check out Courthouse Butte in the early morning sunlight.
ENJOY THESE WINTER HIKES
One of the best things about visiting Sedona in January is accessing the many hiking trails that give you splendid views of the panoramas.
BOYNTON CANYON TRAIL
Also known as Bandito Spire, one of the beautiful landmarks in Arizona is Boynton Canyon, which is also a fantastic spot to watch a colourful sunrise in Sedona.
It's about 6 miles round trip from the Boynton Canyon trailhead and parking lot, easy and ideal for everyone, and one of the best things to do in Sedona in winter.
You will pass through another landmark Kachina Woman, an 80-foot weird tall mushroom-like tower towering over the entrance to Boynton Canyon.
You will also reach Subway Cave, another spot worth stopping by for its unique formations. 
SOLDIER PASS TRAIL
Sedona's most accessible trail for witnessing a sunrise is the Soldier Pass trail, which passes through different caves, pools, and even sinkholes.
It is one of the most beautiful hikes I highly recommend while visiting Sedona in winter.
Recommended – A Complete Guide To Hiking The Soldier's Pass Trail, Sedona
You can access the Soldier Pass trail via the Cibola Pass Trail, with a mile-long hike length. For parking, you can use the Jordan Road parking lot.
This is a popular trail as it covers two famous landmarks in Sedona, the famous Devil's Kitchen Sinkhole and the Seven Sacred Pools, before arriving at the Soldier Pass Cave.
This trail, open throughout the year, is very popular for mountain biking, running, and trekking.
The best time to do this hike is after rainy months as the pools will be complete.
Recommended – 25 Beautiful Beaches in Arizona For Your Family Weekend Getaway
GO ON A PINK JEEP TOUR
Hop aboard a Jeep and prepare to take in the stunning views of the 1,500 ft towering cliffs of Oak Creek Canyon and its gorgeous natural panoramas.
One of the best adventurous things to do in Sedona in winter, you can admire views of the Colorado Plateau by climbing 2,000 ft along its south rim on one of these Pink Jeep tours.
Here are some of my recommendations for the best Jeep tours to enjoy Sedona sunrise:
Sedona Outback Trail Jeep Adventure – A top-rated 2-hour tour; check out more details here.
Sedona Vortex Tour by Jeep – A fantastic tour also cover Vortex. Find out more here.
Private Gambler Trail: Rugged 4×4 Hummer Tour in Sedona – Recommended if you are looking for a private tour. Check details here.
You can also rent a Polaris RZR 4-Seat for an entire day – I highly recommend this if you are in a group or a family. Saves money and time. Find more details here.
WHERE TO STAY IN SEDONA?
APARTMENTS AND LUXURY HOTELS
A Sunset Chateau – This bed and breakfast features an outdoor pool and hot tub, A fully equipped kitchenette and stunning mountain views from select rooms. 
Hiking is possible in the nearby area. A Sunset Chateau is highly loved by families and couples. Check out rooms and the latest prices here.
Junipine Resort – Offering apartments with a full kitchen and a living room with a fireplace, this resort boasts rustic elegance. Close to the creek and many attractions, it is one of the best places to indulge. Check out rooms and the latest prices here.
Enchantment Resort – If you want a luxurious experience, check out Enchantment Resort, known for its spectacular vistas of Boynton Canyon. 
Enjoy luxurious delicacies and outdoor activities, besides enjoying the comforts of suites and villas with private balconies. Check out rooms and the latest prices here.
Adobe Village Villa with Private Patio – Sunset Villa – Boasting air-conditioned accommodation with a patio, Adobe Village Villa with Private Patio – Sunset villa offers access to a balcony and free private parking. It is one of my favourite recommendations for its rich exteriors and comfortable villas. Check out rooms and the latest prices here.
Sky Ranch Lodge – Sky Ranch Lodge provides spacious accommodation with a seasonal outdoor swimming pool, free private parking, a garden and a bar. Check out rooms and the latest prices here.
El Portal Sedona Hotel – El Portal Sedona Hotel is 20 20-minute drive from Red Rock State Park. You can also enjoy a spa bath, which is also featured in some rooms. Check out rooms and the latest prices here.
Matterhorn Inn – Matterhorn Inn provides excellent accommodation with an outdoor swimming pool and free WiFi throughout the property. The 4-star hotel has mountain views. Check here for the latest prices and deals.
If you are looking for a B&B, I recommend Whispering Creek Bed & Breakfast, which features accommodation with free WiFi, barbecue facilities, a shared lounge and free private parking. They have excellent reviews and great prices. Click here for more details. 
MID-RANGE HOTELS
Hilton Vacation Club Sedona Summit – Situated in the Sedona Plateau and offering stunning views of the Arizona desert, Hilton Vacation Club Sedona Summit features studios and one and 2-bedroom suites. Check out their reviews and prices here. Check out rooms and the latest prices here.
Sugar Loaf Lodge – Offering a seasonal outdoor pool and a hot tub, Sugar Loaf Lodge is one of the top-rated hotels. Check out rooms and the latest prices here.
MAP OF THINGS TO DO IN SEDONA IN JANUARY
Latest posts by Veronica Samuels
(see all)