Latest posts by Veronica Samuels
(see all)
Embarking on a road trip from Phoenix to Tombstone is an adventure steeped in history, beauty, and classic Western charm. 
After moving to Sedona 3 years ago, Tombstone feels a long way away(I can also be lazy to drive!).
Hence, I usually plan the road trips from Phoenix when heading south as there are many fantastic routes that you can convert into short trips, making it a multiple-week road trip easily.
If you are short on time, you can plan a road trip every weekend or an extended holiday based in Phoenix.
One such favourite is the road trip from Phoenix to Tombstone, as history and architecture beckon me no matter where!
You will be treated to spectacular and diverse landscapes, fascinating attractions, historical sites and Arizona national monuments that tell the Wild West story.
I recommend planning at least 2 or 3 days in Tombstone as there are many incredible things to do in this rustic Arizona mining town, including many fun tours you can enjoy with your kids.
Whether you want to plan a road trip from Phoenix to Tombstone with your family or a short drive, I got you covered with all the details you need to know to reach Tombstone from Phoenix.
WHAT IS THE DISTANCE BETWEEN PHOENIX TO TOMBSTONE?
The driving distance between Phoenix and Tombstone is approximately 184 miles (296 km), and it usually takes around 3 hours to cover this distance by car. 
This relatively short trip can be made without extended stops, making it a convenient and accessible journey for those looking to explore both Phoenix and Tombstone within a short timeframe.
CAR RENTAL FOR TRAVELING FROM PHOENIX TO TOMBSTONE
I recommend renting a car as this is the best way to get from Phoenix to Tombstone, which means you can also squeeze in a quick and short road trip.
Having your vehicle allows you to see everything this area offers also giving you the flexibility to stay as long as you like at each destination.
I like Discover Cars and believe me, as a frequent traveler regularly renting cars from them, I recommend them for easy and quick online booking.
Thanks to their long list of car rental companies, you can easily compare the car types and prices before picking. They also sometimes offer pick up as well.
Check prices and book your car here at Discover Cars.
PHOENIX TO TOMBSTONE – WHAT ROUTES ARE AVAILABLE?
There are a couple of popular driving routes for a road trip from Phoenix to Tombstone. 
Each route provides different scenery and attractions, so choose the one that best suits your preferences and time constraints.
Route 1: I-10 East (3 hours)
The most direct and quickest route between Phoenix and Tombstone is via Interstate 10 East. 
This 184-mile journey takes approximately 3 hours of driving time without any stops. 
This is the shortest of the two routes from Phoenix to Tombstone.
Along the way, you will pass through Tucson, another popular stop en route to Tombstone.
If you are stopping at Tuscon for a few hours or a day, I recommend visiting the Arizona-Sonora Desert Museum, known for its exquisite collection of flora and fauna.
If you are keen on hikes and more trails to get closer glimpses of the rugged desert experiences, head to Sabino Canyon Recreation Area, a beautiful and easily accessible spot for outdoor enthusiasts.
Below are some of the best stops you can make on your road trip.
CASA GRANDE RUINS NATIONAL MONUMENT
Famous for – Ancient historic site
Best time to visit – Spring
Facilities – Visitor Center, picnic grounds, guided tours
Managed by – National Park Service
Entry – Free admission
One of the popular day trips from Phoenix and Tucson is a visit to Casa Grande Ruins National Monument northeast of Casa Grande, which preserves a group of Hohokam structures dating to the Classic Period.
This collection of ruins dating to the 14th century from an ancient farming community of Sonoran Desert Peoples, one of the most sophisticated communities known for their wide-scale irrigation farming and extensive trade connections, is one of the top Arizona National Monuments to learn about the settlers in Arizona many hundred years ago.
Archaeologists have classified the ruins as a meeting place or a waypoint in complex irrigation systems. 
But since little documentation has been discovered so far, the complete history of the ruins remains a mystery.
Other highlights are an informative visitor centre, where you can learn about the Hohokam culture, a collection of Sonoran Desert plants and a shady picnic area.
Route 2: US 60 E / I-10 E (3.5 hours)
The second option is a slightly longer driving route of US 60 East and I-10 East, which takes about 3.5 hours to complete. 
This 221-mile scenic route allows you to experience a different aspect of Arizona's landscape, as it takes you through the beautiful Superstition Mountains and charming small towns.
Highlights along this route include a stop at Boyce Thompson Arboretum State Park, which boasts over 2,000 plant species from various desert climates, and if you have time, I recommend also stopping at historical mining towns like Globe and Miami.
Regardless of the driving route you choose, it is essential to plan and make time for rest stops and detours to truly enjoy the Arizona scenery and attractions on your Phoenix to Tombstone road trip.
MORE STOPS ON THE PHOENIX TO TOMBSTONE ROUTES
PICACHO PEAK STATE PARK
Among the best reserves to experience the wilderness of the Sonoran Desert is Picacho Peak State Park, which also offers some of the most incredible Tucson sunset views.
A short 40-minute drive from the Tucson area, you can plan an afternoon hike along the Sunset Vista trail, which takes you through the desert landscapes dotted with many cacti and wildflowers surrounded by rocky mountains. 
The views start appearing once you reach the two prominent mountain crests. 
Enjoy splendid sunset views in Tucson between Picacho Peak and the smaller mountains painted with golden, pink, or purple skies forming a magical backdrop.
SAGUARO NATIONAL PARK
One of the popular day trips from Phoenix for outdoor lovers and adventure seekers is Saguaro National Park. One of the beautiful Arizona National Parks, this park is located 2-hours away from Phoenix. 
It is also a popular weekend getaway from Tucson, much closer.
Saguaro National Park is home to vast forests of saguaro cacti, including America's tallest and most iconic cactus species. 
These large, majestic branching cacti reach heights of more than 40 feet, living over 250 years and dominating the landscapes creating stunning and rugged panoramas.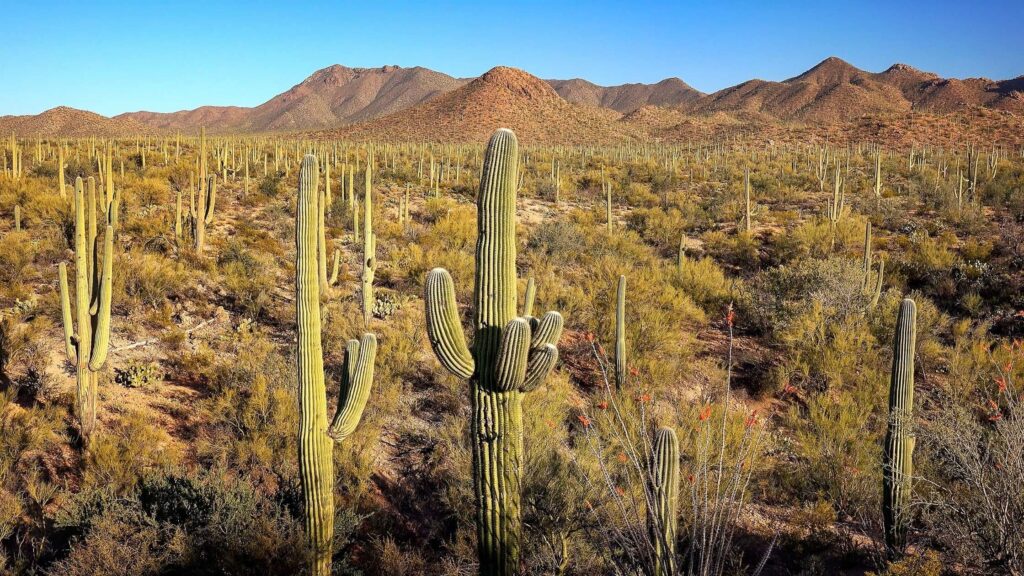 The majestic saguaro recognized worldwide as a symbol of the desert and an iconic image of the American Southwest, only appears naturally in the Sonoran Desert—which stretches across the southwestern United States on either side of Tucson.
Founded in 1933 by President Herbert Hoover, the Tucson and Rincon mountain ranges run through the park. 
The sweeping valleys dotted with forests of spiny saguaro towering up to 15 meters in height make for a distinctive sight with their prickly pears and blooming buds, and sunset is one of the most beautiful and distinct as these vegetations form alluring silhouettes.
Saguaro National Park is divided into two segments, one on either side of Tucson, named the Rincon Mountain District east of Tucson and the Tucson Mountain Unit west of Tucson, covering over 54000 acres.
On the west side, in the Tucson Mountain District, which is smaller and more accessible, you'll find the densest stands of saguaro and sweeping views from the Valley View Overlook Trail. 
Many short hiking trails are ideal for beginners to explore the national park, including the unpaved Bajada Loop Drive driveway.
The Rincon Mountain District, on the east side, is more remote and includes a large mountainous region with summits over 8,000 feet. 
Rincon Mountain also features the park's famous Cactus Forest Loop drive and offers stunning sunset and sunrise views.
There are many trails in the park of different difficulty levels for hiking and biking, which will take you across its dazzling and dramatic landscapes.
Although Saguaro National Park is a hiker's paradise all year round, avoid the midday sun in the summer.
One of the most popular times to visit Saguaro National Park is in late spring into early summer, the time of saguaro blooms with giant waxy white flowers, also an Arizona state symbol.
Hike the Hope Camp and Ridgeview Trails in spring for colourful wildflower displays and beautiful views.
Other Saguaro National Park attractions include Native American rock art and a 19th-century homestead. Check out the visitor centre for plant and animal exhibits. 
The national park is home to roadrunners, coyotes, Gila monsters, and many types of snakes, which you should watch out for while hiking.
PHOENIX TO TOMBSTONE FAQS
How far is Tombstone from Phoenix and how long does it take to drive there?
The distance between Phoenix and Tombstone is approximately 184 miles. 
The estimated driving time without any stops or delays is around 2 hours and 51 minutes, although, it might take closer to 4 hours due to traffic and other factors.
What are some popular road trip stops between Phoenix and Tombstone?
Desert Botanical Garden: Located in Phoenix, this 140-acre site features an extensive collection of desert plant life, including cacti, succulents, and wildflowers.
Picacho Peak State Park: A great spot for hiking, picnicking, and enjoying Arizona's natural beauty.
Biosphere 2: An intriguing research facility with guided tours that showcase unique plant and animal habitats.
Is Tombstone Close To Tucson?
Yes, Tombstone is relatively close to Tucson, about 75 miles northwest of Tombstone.
WHERE TO STAY?
Best B&Bs and cabins that I recommend for couples and families.
Katie's Cozy Cabins – Located in historic Tombstone, this inn is 5 minutes' walk from O.K. Corral and Big Nose Kate's Saloon. This self check-in property features a porch with a swing with each bungalow.
There is a fully equipped kitchenette, a bathroom with a shower and a sofa bed in the living room of each accommodation at Katie's Cozy Cabins. Find the reviews and book your details here.
Virgil's Corner B & B – Virgil's Corner B & B features air-conditioned accommodation in Tombstone. The bed and breakfast also offers free WiFi, free private parking and facilities for disabled guests. Find the details here to book.
Tombstone Bordello Bed & Breakfast – Offering a seasonal outdoor pool and hot tub, Tombstone Bordello Bed & Breakfast is set in Tombstone, Arizona, 33 km from Bisbee.
The rooms include a private bathroom and free fresh made breakfast every day. A pet-friendly room is available with a separate entrance. Find the details here.
If you are looking for a motel, I recommend Larian Motel. Find more details and book here.